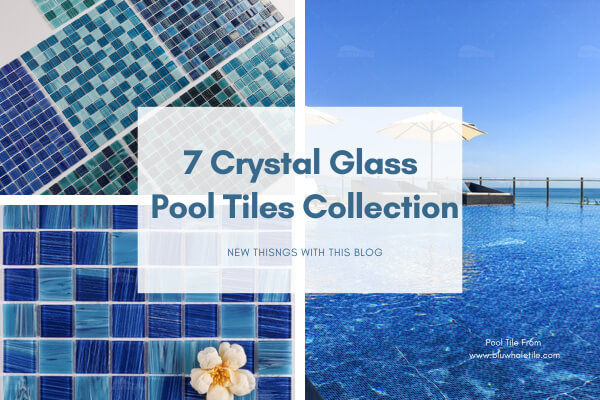 Embark on a journey of discovery as we unveil our latest assortment of swimming pool crystal glass mosaic tiles. Each tile is meticulously crafted to bring a touch of elegance and allure to your poolside oasis. Join us on this immersive exploration as we uncover the distinctive features and irresistible charm encapsulated in each of these exquisite pool tiles.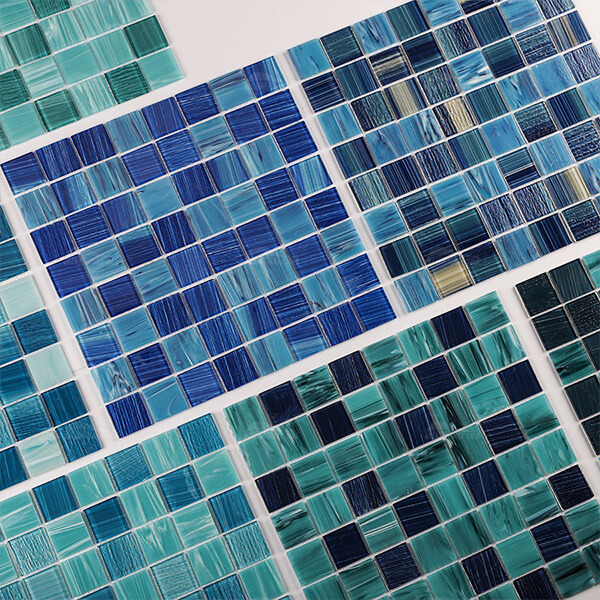 #1 Unveiling Elegance: 36x36mm Square Crystal Glass Mixed Cobalt Blue
Step into sophistication with our mixed cobalt blue variant. This tile's 36x36mm square design highlights a captivating blend of deep cobalt shades, offering a sense of depth and elegance to your pool. The glossy finish beautifully complements the iridescent elements, ensuring your pool radiates luxurious charm.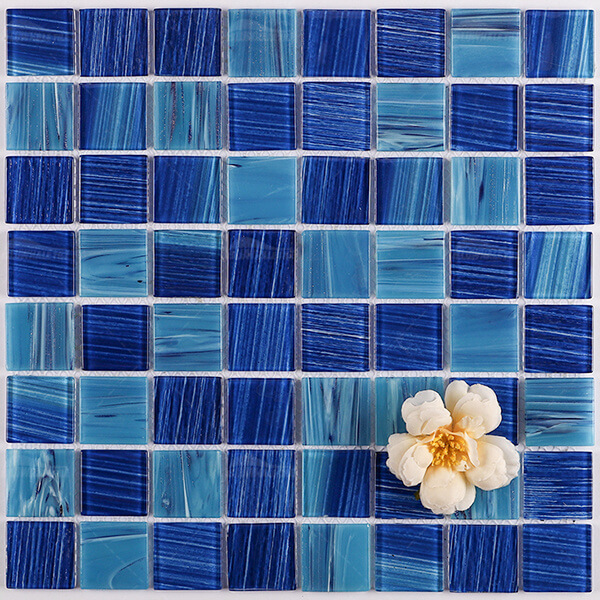 Featured Product: 36x36mm Square Crystal Glass Mixed Cobalt Blue GZOL1602
Imagine this tile adorning the inner sanctum of a rooftop infinity pool, nestled high above the bustling cityscape. As the sun sets, casting a cascade of colors across the skyline, this tile's vibrant cobalt shades reflect the changing hues of the twilight, turning the pool into a breathtaking oasis of tranquility and beauty. The seamless and elegant design seamlessly merges with the infinity pool's edges, creating a mesmerizing vista that merges with the horizon.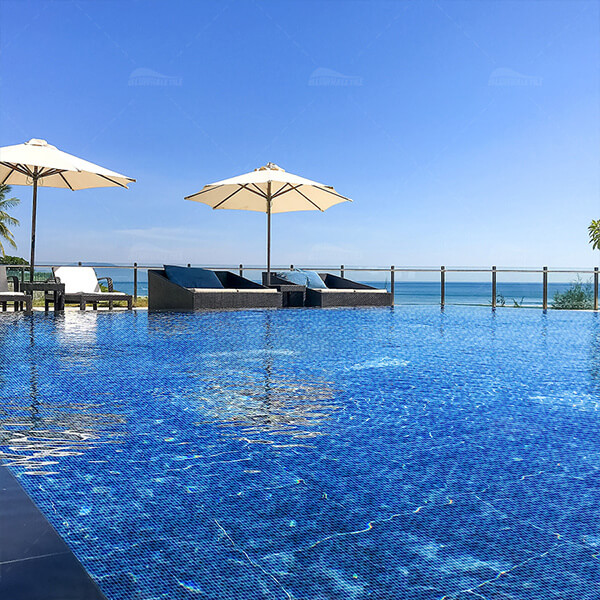 Additionally, envision this variant as the exquisite embellishment in the heart of a luxurious mansion's pool. Nestled within the confines of an opulent estate, this tile infuses the pool with a sense of refined elegance and timeless sophistication. The rich cobalt tones create a striking contrast against the lavish surroundings, while the iridescence of the tiles adds a touch of glamour and allure. With every ripple on the water's surface, these tiles sparkle and dance, inviting residents and guests to immerse themselves in a world of lavish comfort and indulgence.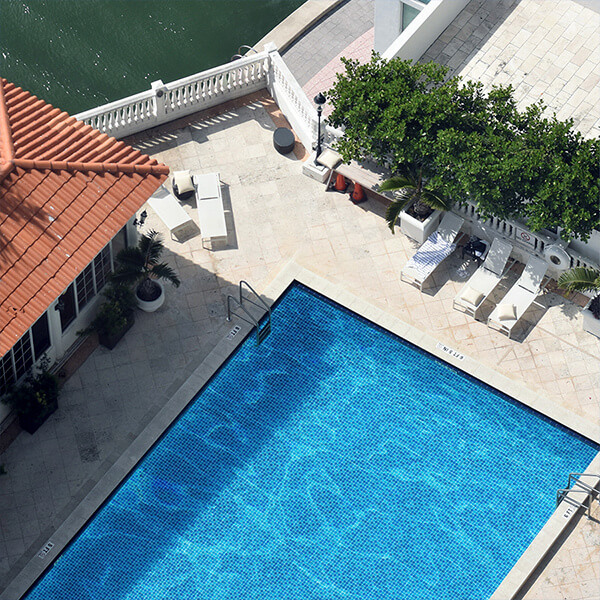 #2 Mesmerizing Blues: 36x36mm Square Crystal Glass Mixed Blue
Dive into a sea of serene blues with our mixed blue variant. This tile combines a spectrum of blue tones, evoking a calming ambiance reminiscent of clear skies meeting tranquil waters. The iridescent effect enhances the tile's allure, creating a mesmerizing play of light and color.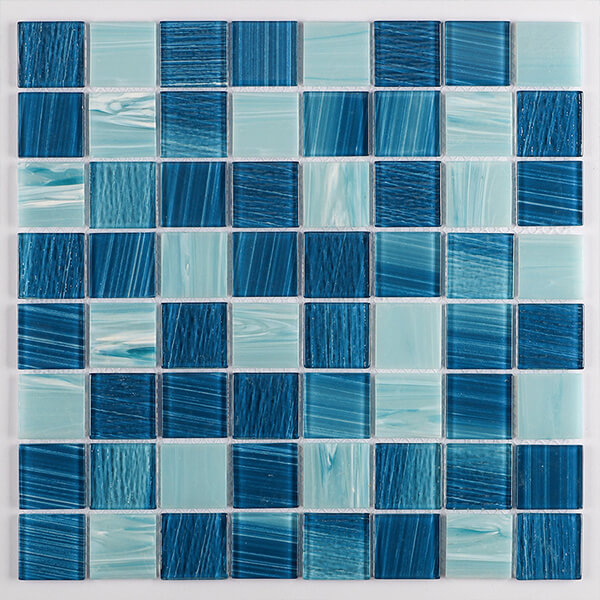 Featured Product: 36x36mm Square Crystal Glass Mixed Blue GZOL1001
#3 Harmonious Hues: 36x36mm Square Crystal Glass Mixed Blue
Experience the harmonious blend of various blue shades in our mixed blue variant. With an iridescent finish that accentuates the interplay between colors, this tile creates a serene and inviting pool environment. Its 36x36mm square format ensures a seamless and captivating mosaic design.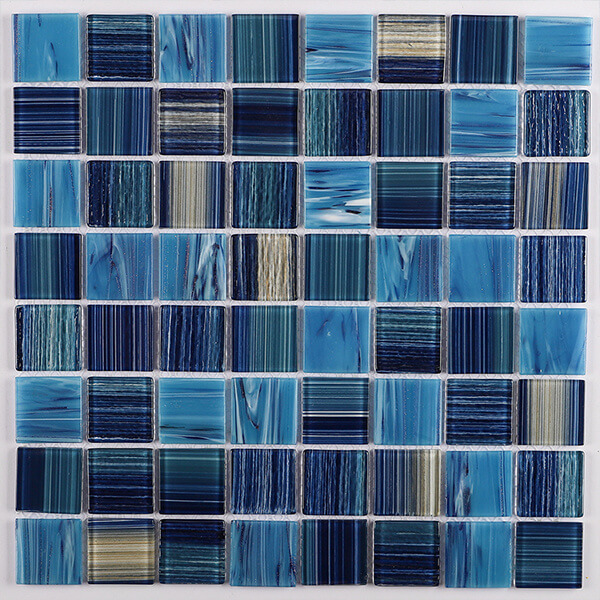 Featured Product: 36x36mm Square Crystal Glass Mixed Blue GZOL1002
#4 Refreshing Aqua Tones: 36x36mm Square Crystal Glass Mixed Aqua
Immerse your pool area in a rejuvenating ambiance with our exquisite mixed aqua crystal glass mosaic tile variant. Designed to evoke the serenity of clear tropical waters, this 36x36mm square tile is an ode to tranquility and freshness. The palette of soothing aqua shades seamlessly blends to replicate the alluring beauty of pristine lagoons.
Featured Product: 36x36mm Square Crystal Glass Mixed Aqua Green GZOL1701
What makes this tile truly captivating is its iridescent finish, infusing the surface with a captivating brilliance that reflects and refracts sunlight, resulting in a breathtaking play of shimmering light across your pool. The interplay of vivid hues coupled with the iridescence creates an invigorating atmosphere that enlivens your pool space, transforming it into a vibrant aquatic paradise. Dive into a world of refreshing elegance and embrace the allure of crystal-clear waters within your very own oasis.
#5 Aqua Green Elegance: 36x36mm Square Crystal Glass Aqua Green Mixed Dark Blue
Enhance the appeal of your poolside oasis with the exquisite charm of our aqua green mixed dark blue variant. This distinctive blend creates a captivating interplay between the serene shades of green and the depth of dark blue, resulting in a refined and contemporary ambiance for your pool area. The fusion of these tones imparts a sense of sophistication, elevating the overall visual appeal of your pool to a luxurious level.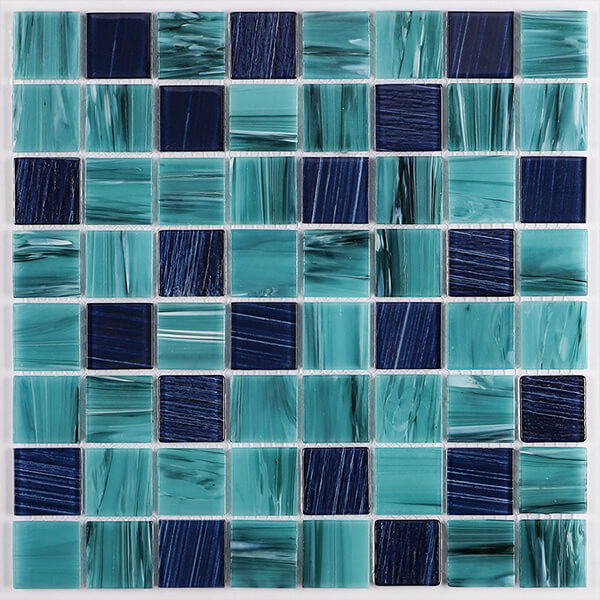 Featured Product: 36x36mm Square Crystal Glass Aqua Green Mixed Dark Blue GZOL1702
What makes this tile truly exceptional is the iridescent effect that adds a mesmerizing depth and brilliance. As sunlight touches the surface, the iridescence creates a stunning shimmer, reflecting and refracting light to produce a captivating visual display. This effect not only amplifies the tile's allure but also imbues your pool with a sense of vibrancy and elegance, making it a focal point that exudes modernity and style.
#6 Captivating Contrasts: 36x36mm Square Crystal Glass Mixed Blue
Indulge in the exquisite blend of multiple blue hues with our mesmerizing mixed blue crystal glass mosaic tile variant. Crafted in a 36x36mm square format, this tile intricately weaves together an array of captivating blue tones in a stunning mosaic pattern. Each shade interacts harmoniously, presenting a visual symphony that mimics the depth and diversity of the ocean.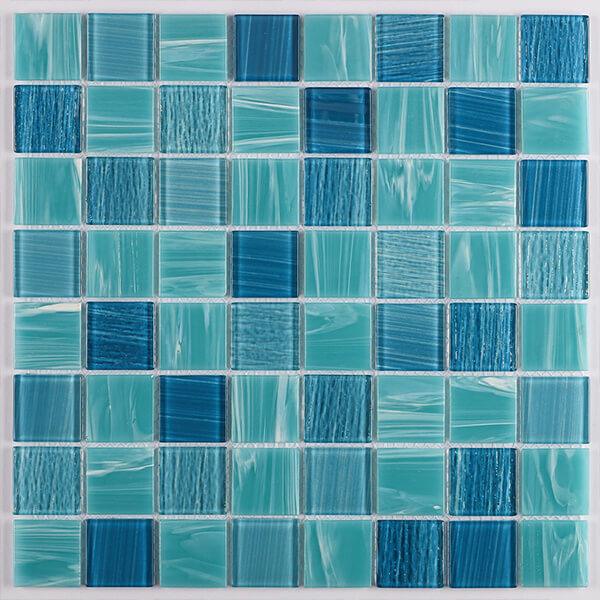 Featured Product: 36x36mm Square Crystal Glass Mixed Blue GZOL1703
The iridescent finish magnifies the tile's texture, casting a mesmerizing and dynamic shimmer across your pool's surface. Its textured appearance, coupled with the iridescence, creates an enchanting play of light and shadow, amplifying the tile's allure and making it an enticing focal point in any pool setting. This variant exudes an elegant, yet contemporary charm, promising to elevate the aesthetics of your pool while fostering an inviting and tranquil ambiance.
#7 Serene Aquatic Aura: 36x36mm Square Crystal Glass Aqua Green Mixed Dark Blue
Immerse yourself in a tranquil oasis with our stunning aqua green mixed dark blue variant. This unique tile evokes a sense of calmness by intertwining soothing green hues with deeper, more profound blues. Each 36x36mm mosaic piece presents a mesmerizing blend that mirrors the serene depths of crystal-clear waters, rendering your pool a haven of tranquility.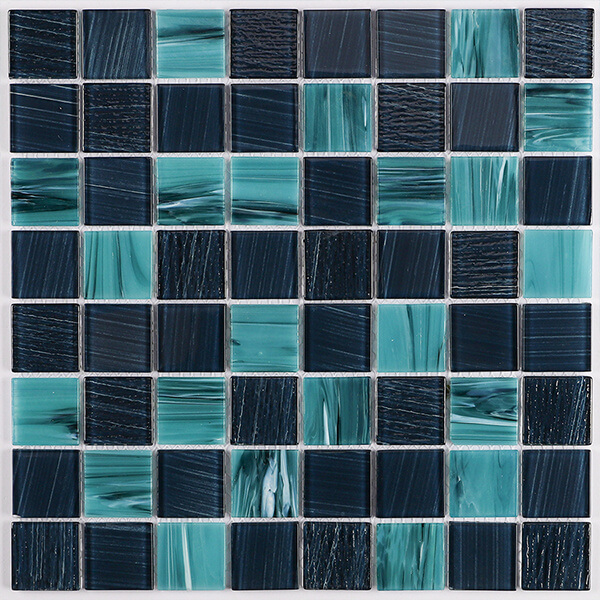 Featured Product: 36x36mm Square Crystal Glass Aqua Green Mixed Dark Blue GZOL1704
What sets this tile apart is its impeccable iridescent elements. These nuances catch and refract light, enhancing the tile's overall appeal by mirroring the natural shimmer of calm waters. The play of light on the tile's surface brings forth an exquisite visual display, elevating your pool's aesthetic allure to unprecedented levels of sophistication and elegance.
As this aqua green mixed dark blue variant graces your pool, it doesn't just add color; it creates an artistic statement. It seamlessly blends contemporary luxury with the timeless allure of serene aquatic landscapes. Allow yourself to be captivated by the allure of this mosaic, transforming your pool into a sanctuary of tranquility and refined elegance.
With a rich legacy spanning 17 years in the industry, Bluwhale Tile stands as a venerable name, revered for its unparalleled expertise in crafting top-tier swimming pool tiles. As connoisseurs of elegance and quality, we extend a heartfelt invitation to experience our exquisite collection firsthand. Our mosaic tiles embody a perfect synergy of artistry, functionality, and aesthetic appeal, elevating your pool area into an epitome of style and sophistication.
Step into a world where innovation meets craftsmanship, where each tile narrates a story of meticulous design and impeccable detailing. Request samples today and immerse yourself in the transformative potential of our mosaic tiles. Witness how these exquisite elements can breathe new life into your pool area, converting it into a mesmerizing sanctuary that resonates with opulence and refinement. Explore the vast array of possibilities and embrace the opportunity to redefine your pool aesthetics with Bluwhale Tile's finest offerings. Get free samples now!