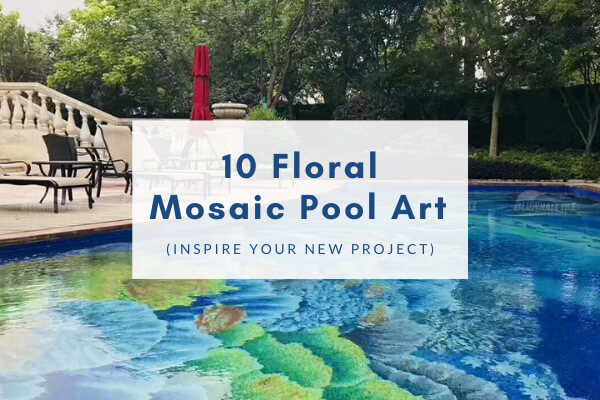 Tempted to try floral mosaic pool art? We have rounded up charming projects that will help you find the right floral patterns for your space. Bonus: floral mosaic pool art design ideas and inspiration for your new remodel. Thousands of tiny multi-colored tesserae, dozens of color and pattern options, and a ton of design possibilities - where does one start? Saying that there are thousands of mosaic art design options would be an understatement. Floral mosaic art is very dynamic and versatile.
Needlework artists utilize cross stitch and other forms of embroidery to make art. An artist fills a blank paper into an outstanding painting using imagination and brush strokes. Framework knitters use yarn to make amazing designs. A screen displays pictures using pixels. Similarly, for mosaic art designers, the creative expression comes in the form of arranging each mosaic chip together to make bigger pictures and designs.
Since just about any mosaic artwork design concept can be transformed into mosaic, picking the perfect one for your project can be overwhelming. While the options are virtually endless how do you shortlist them and eventually proceed with one? Here are 10 floral mosaic pool arts you can inspire in your next pool renovation.
1 Lingering Fragrance of Blue Rose
A simple way to bring style to your swimming pool this summer season is by choosing a unique floral mosaic artwork and a blue color. This appealing blue rose mosaic art is an ocean tone staple piece. One of the best parts about this mosaic art is the rose pattern and blend blue tone, making it easy to balance the hotel interior pool style. You can also see and feel the lines on a rose petal which gives this artwork a visual surprise!
To learn more about this project, visit our blog "Swimming Pool Project: Flower Pattern Mosaic Mural In Hotel Lap Pool"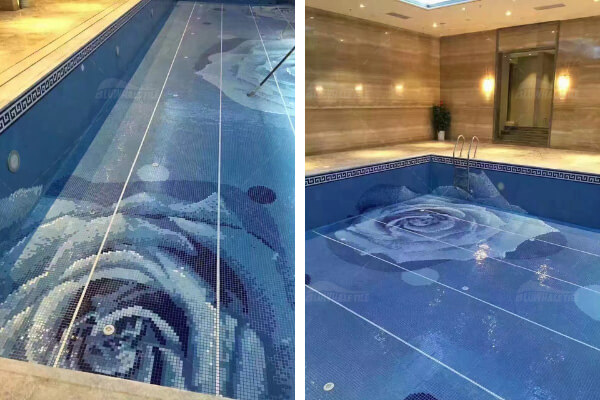 Featured Product: Flower Series BGE022
2 Be in Bud
Bright and glaring colors are beginning to make their appearance, so get ahead of the game with this attractive sapphire blue floral mosaic pool art! Combining perfectly with the mosaic artwork pattern, this hotel swimming pool is beyond magical. The bold blue color and thoughtful mosaic art design can make any pool feel more beautiful than before, and this commercial pool does just that.
For more info on this project, visit our blog "Swimming Pool Project: Unique Custom Pattern at The Pool Bottom"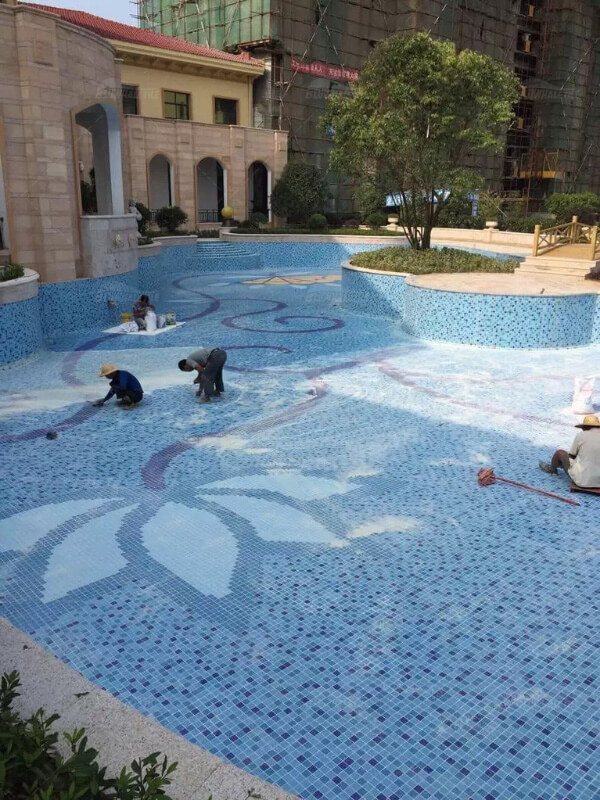 Featured Product: Flower Series Ceramic Pool Art
3 Charming Water Lily
Summertime is the season of pool party new beginnings, making it the perfect time to remodel your pool interior wall, and this water lily mosaic pool art is a wonderful example. The pool art of summer-inspired colors creates a blue tone focal point while also adding a unique touch of personality to this hotel pool. This mosaic art design idea is great for those whole like blue colors but wants to add a few different things.
To see other ways you can add interesting things of mosaic art patterns to your pool, visit our blog "Swimming Pool Project: Fish Pool Pattern Design Plan"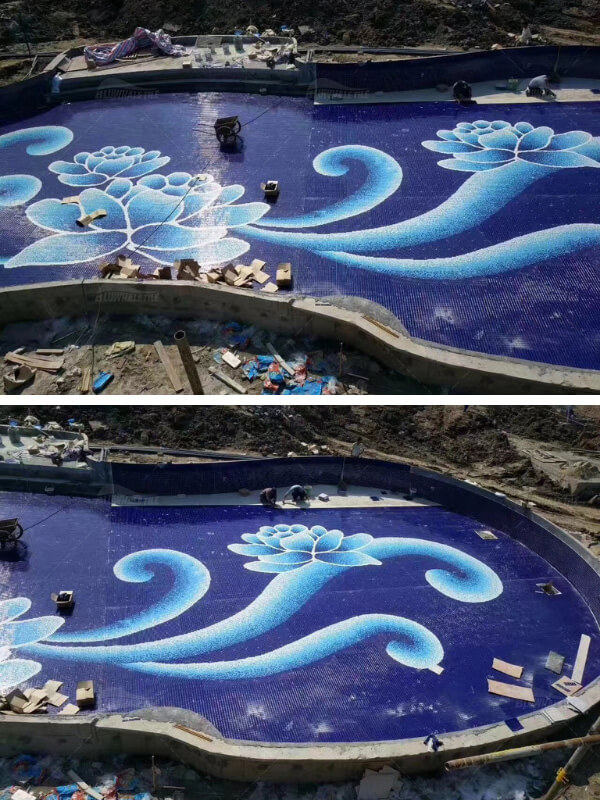 4 Lively Flower in Pool
Lively flower means colorful, so why not add some colors to your mosaic pool art? This stunning and chic floral pattern design is the perfect way to add character and dimension to your hotel pool in a simple yet dazzling way. The rich flower color is a wonderful shade to combine with the blooming flowers of summertime.
To learn more about mosaic pool art projects, visit our blog "Swimming Pool Projects: Sea World Mosaic Murals Ideas"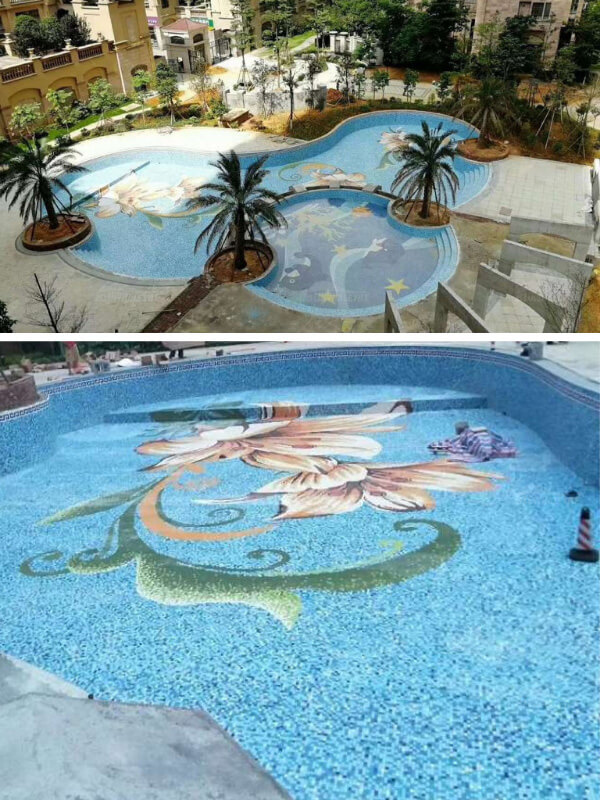 5 Blue Summer Lotus
Bluwhale Tile's mosaic pool art will instantly glam up your indoor and outdoor setting. With a summer lotus geometric pattern, this blue lotus brings refreshing and natural vibes to your pool. Its blue tone and beautiful floral pattern make it ideal for use in swimming pools and other water bodies. The lovely thing about mosaic pool art is that the pattern can be extended to fit much larger areas, such as spa pools and hotel pools. Because glass mosaic is zero water absorption and low maintenance, it is perfect for moist and humid places such as pools, showers, and bathroom walls.
For more mosaic pool art project ideas, visit our blog "Swimming Pool Project: How Landscape Painting Blend Into Pool Bottom"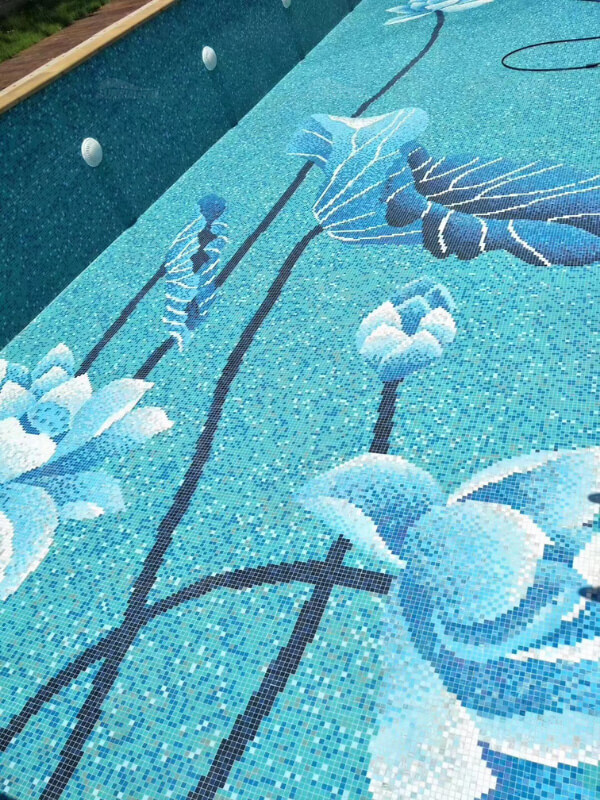 Featured Product: Flower Series BGE020
6 Sweet Greenish Lily Flower
If summer is your favorite season, then this blue palette mosaic pool art is for you! The mosaic art pattern is made from beautiful greenish lily flowers and blends blue colors making this the ocean vibe that people will be envious of. Pair all of that up with glossy, glaze and high variation ceramic mosaic chips, and summer is here to stay!
For more details on this project, visit our blog "Swimming Pool Project: Lilies Flowers Grew At The Pool Bottom"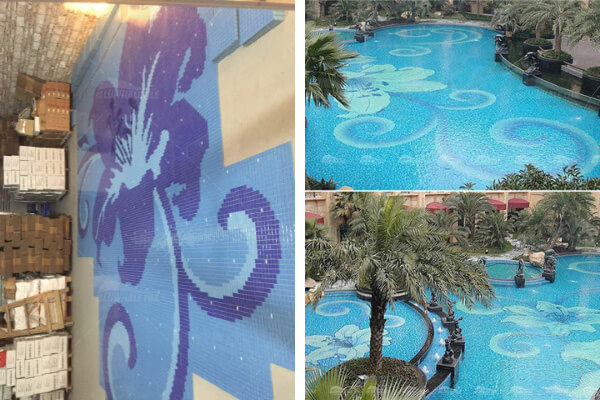 Featured Product: Flower Series Ceramic Pool Art
7 Petal be the Point
What better pattern to add character than floral mosaic pool art? Another way to take the hotel pool and turn it into an appealing wonderland is by using bold patterns. This could be using mosaic pool art with many petals patterns and blue color. Combining our blue tone mosaic chips with a cozy blue and you can have a petal pattern pool mosaic artwork.
To learn more about this project, visit our blog "Swimming Pool Project: How Does The Leaves Pattern Mosaic Mural Create A Sparkle"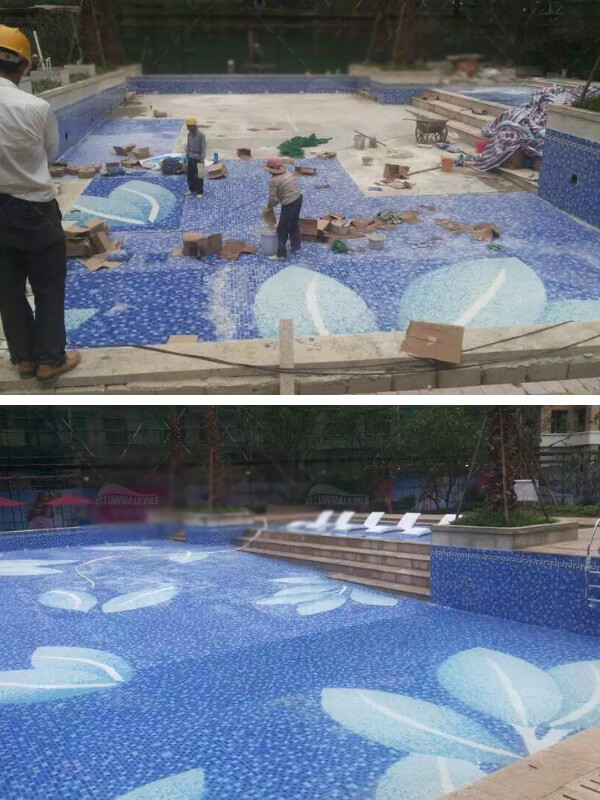 8 Blossoming Flower
Mixing mosaic chips together is a simple way to create a unique and custom design. Our blossoming flower pool mosaic art is one of our most popular signature patterns, that combines our ceramic mosaic chips and chic floral pattern. These two elements are a match made in heaven that fits perfectly to make a wonderful motif. Go bold with vibrant colors arrangement just like this project!
To see more details of this project, visit our blog "Swimming Pool Project: Custom Flower Mosaic Mural Makes A Big Splash"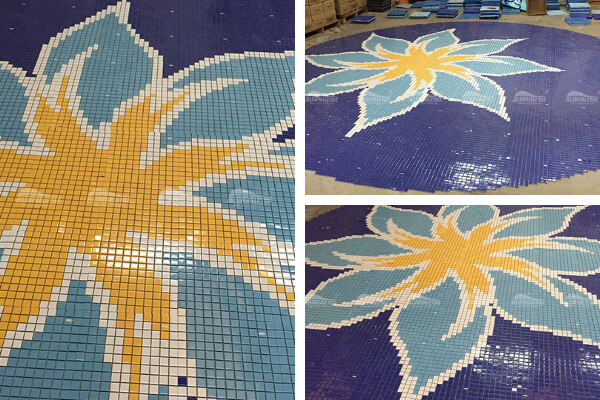 9 Pick a Retro Floral Pattern
The blue tone combines well with the retro floral pattern. The color ocean blue is known to symbolize ingenuity and we can wholeheartedly attest to that with this natural blue color. With its subtle variation and electrifying details, this retro floral pattern in blue hue will add dimension to the spa pool in any setting.
To learn more about spa pool projects, visit our blog "Swimming Pool Project: Round Sauna Pool with Simple Blue Mural"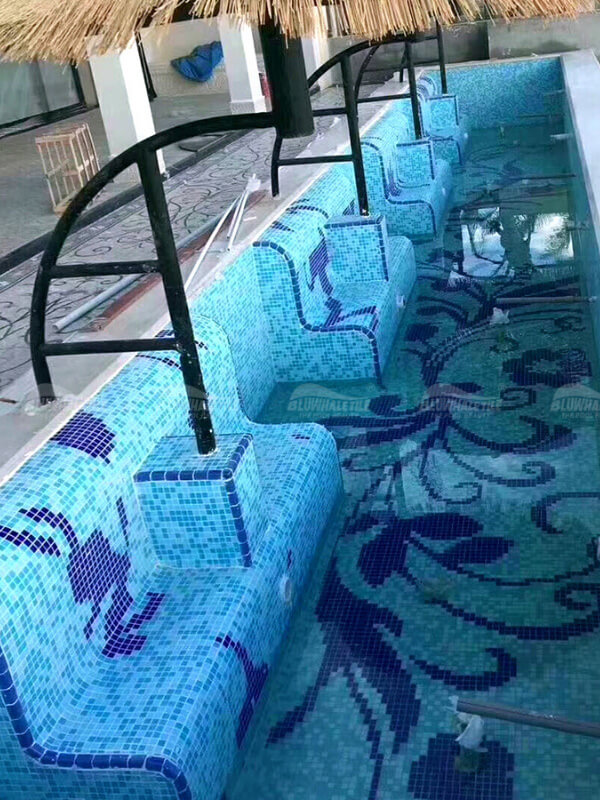 10 Multi-colored is Trend!
Last but certainly not least is the colorful floral-inspired pool mosaic art! This custom mosaic art is becoming popular amongst our customers and we are completely on board. It creates an abstract flower ocean landscape that brings dimension to the backyard pool while still balancing the whole style. We are looking forward to seeing more outstanding floral mosaic pool art in the future.
To see more backyard design ideas, visit our project blog "Swimming Pool Project: The Trendy Finishes For A Modern Pool Design Project"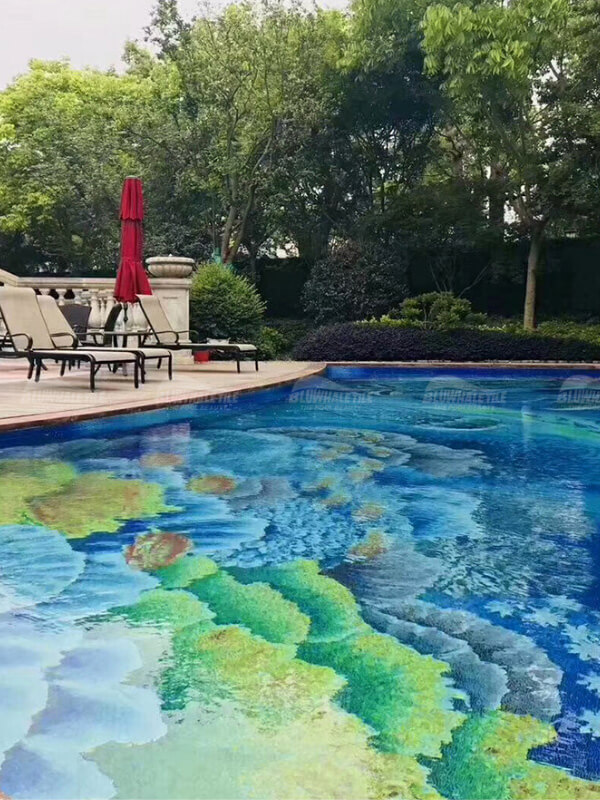 Featured Product: Flower Series BGE021
Get Inspired?
Immerse yourself into the exciting world of mosaic artworks and see some brilliant projects of the art form. From thereon you can either choose the one you like and get it customized according to your space and requirements. You can mix and match your favorite elements from different mosaic chips into a new project. If it feels like nothing fits or you have found the wonderful mosaic art design idea yet, get a new one designed from scratch. Bluwhale Tile is so excited to hear your ideas. Contact us for more inspiration right now!