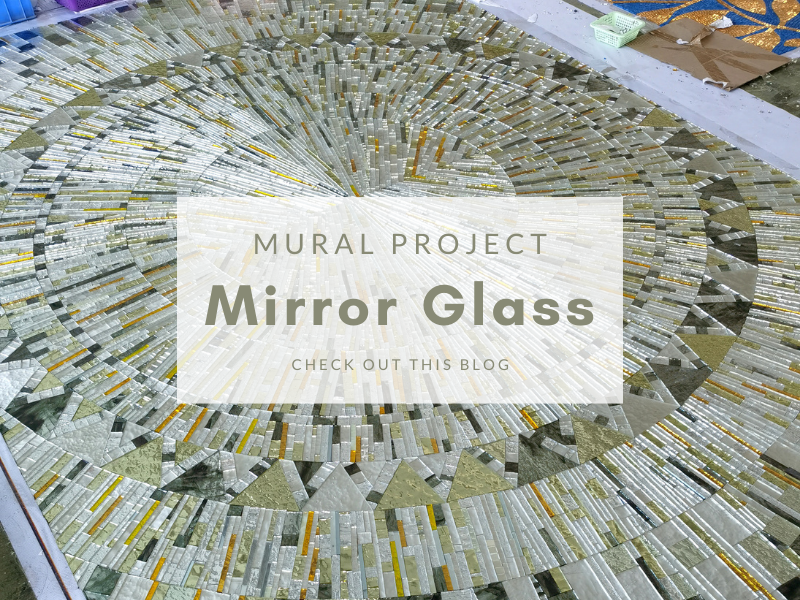 What goes into the creation of our mosaic arts? We've had so much interest in the actual process of making our handcrafted mosaic chips, we're devoting this blog to it. Putting together mortar, technology, and mosaic tiles is absorbing to see, particularly while experienced workers like ours are on the job. Our intricate mosaic pieces can incorporate thousands of tesserae, an array of subtle tones, and abundant techniques.
Design is Everything
At the start, each appealing chip of mosaic artwork is just a mural design. Our professional workers and creative design team are continually on the hunt for ideas. As you can see in our mosaic mural catalog, those inspirations come to us from everywhere. In other words, our inspiration stems from the natural world or ancient temples. In addition, the human figures and lovely pets are also inspiring!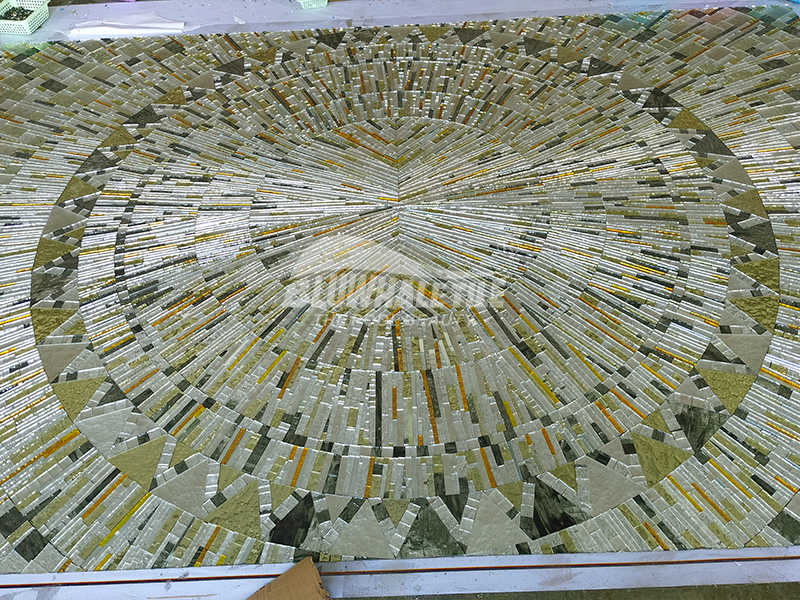 Featured Product: Pool Art Mirror Glass ZGH2006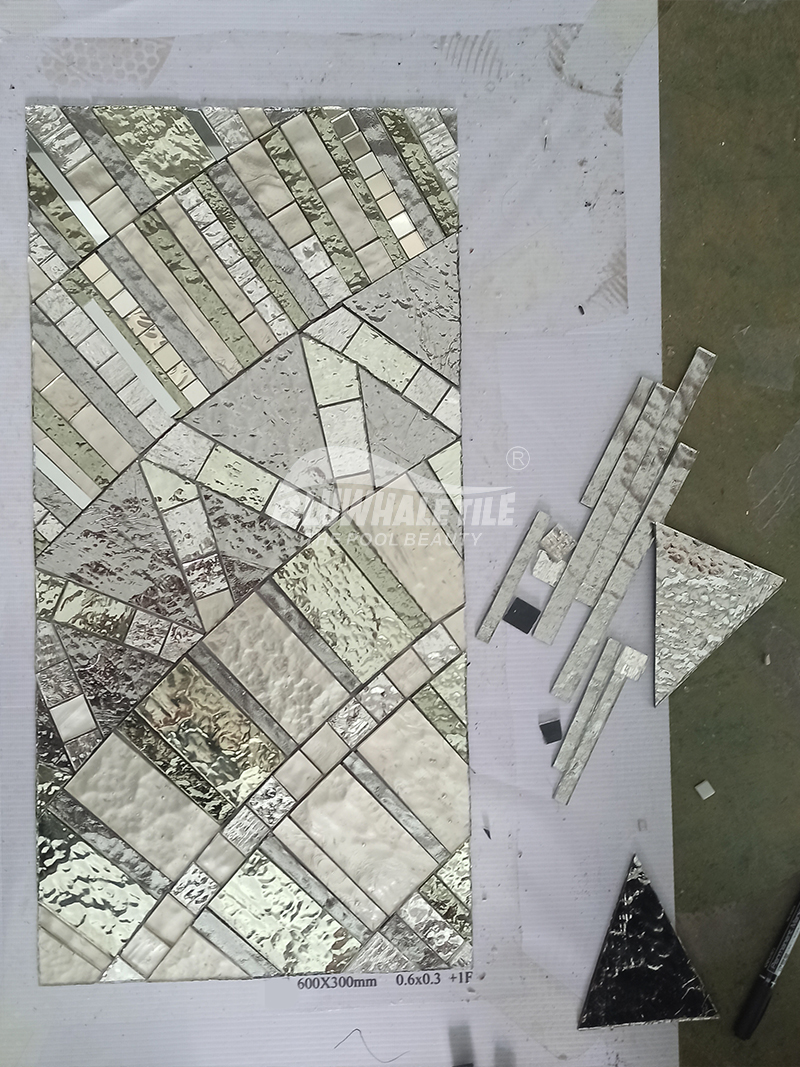 The final result is an incomparable range of mosaic mural designs, including animal art, flower patterns, human figures, backsplash tile mosaic art, and many more. Once our skilled artists have made a determination on their inspiration, they set to work creating the design. As you can imagine, the mosaic art mural can be quite complex. In addition to sketching out the real picture and identifying the tone, size, and type of mosaic tile for each element, our workers also decide how each tile chip is placed. If you look closely at this new customized mirror glass mosaic wall art, for example, you can see how the mirror glass tiles follow curving lines and alternate their directions. Due to doing so, the artist has given extra life, movement, and texture to the rich geometric pattern.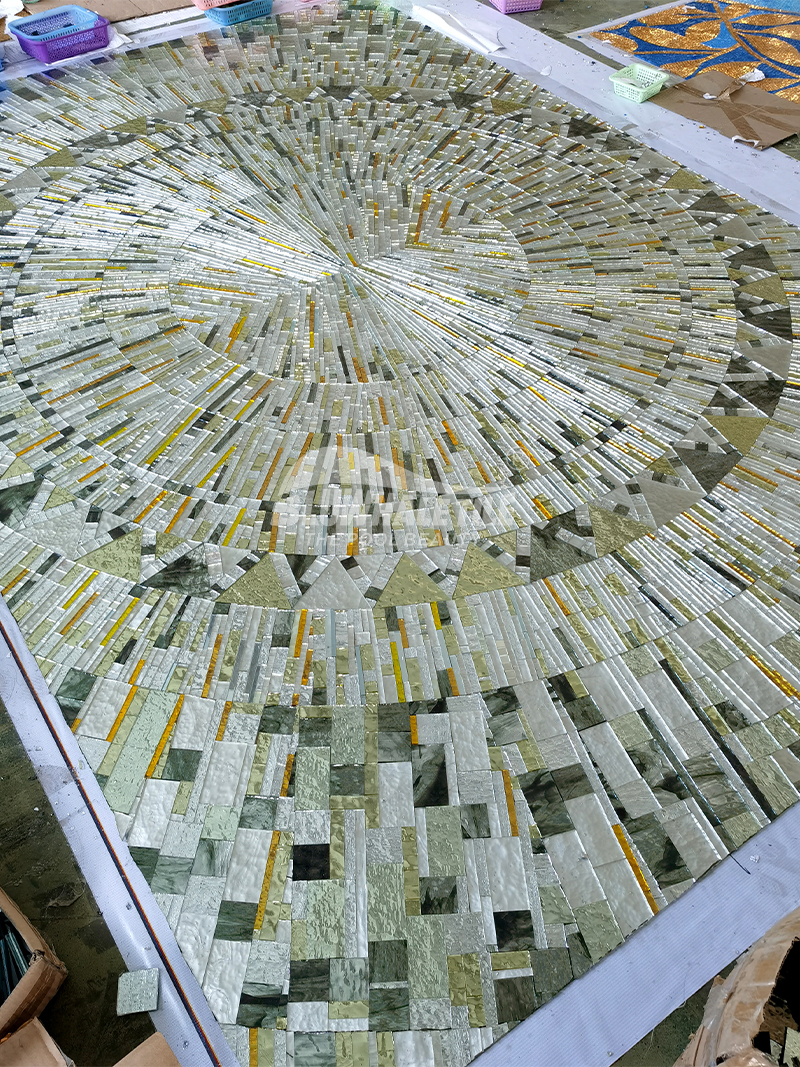 How Do We Make This Mosaic Art?
When you order a customized mosaic mural that's created from a picture or art that you supply, our designer uses your original to make a design with the layout and decides on the shape selection and colors.
Our huge range of tones allows for picture-perfect matches, using mirror glass mosaic chip. Welcomed options for our custom services are to create mosaic figures and memorable chips of glass mosaic art for residential and commercial spaces.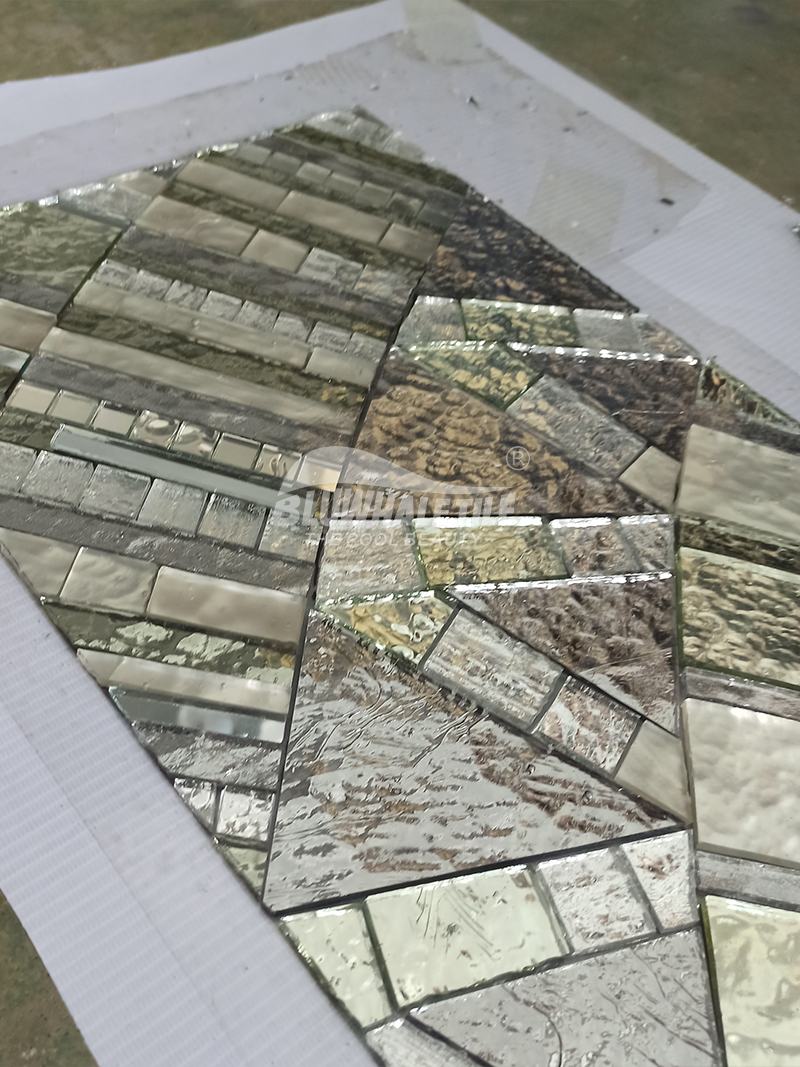 Material: Handcrafted Mirror Glass Mosaic Chips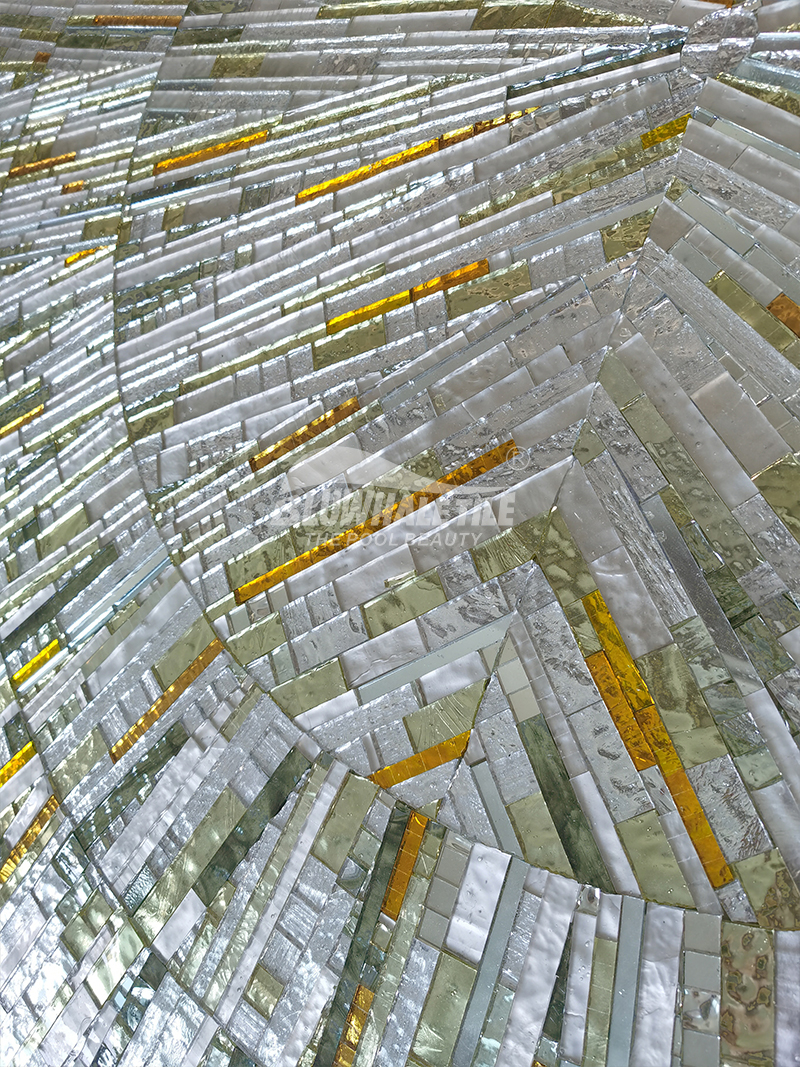 First, on a flat surface, our designer lays out a print of the design. Following that, a plastic sheet is laid over the print with a sheet of mesh on the top. Comparatively, all these layers are supposed to be of the same size and stapled to each chip. And now is when the stunning magic begins. A mosaic worker will start will adding glass mosaics one by one to bring the mosaic to life. Generally, a worker will start by tiling the details before adding mosaic chips to the background of the mural design. The tesserae are glued to the mesh backing using any brand of contact glue as an adhesive.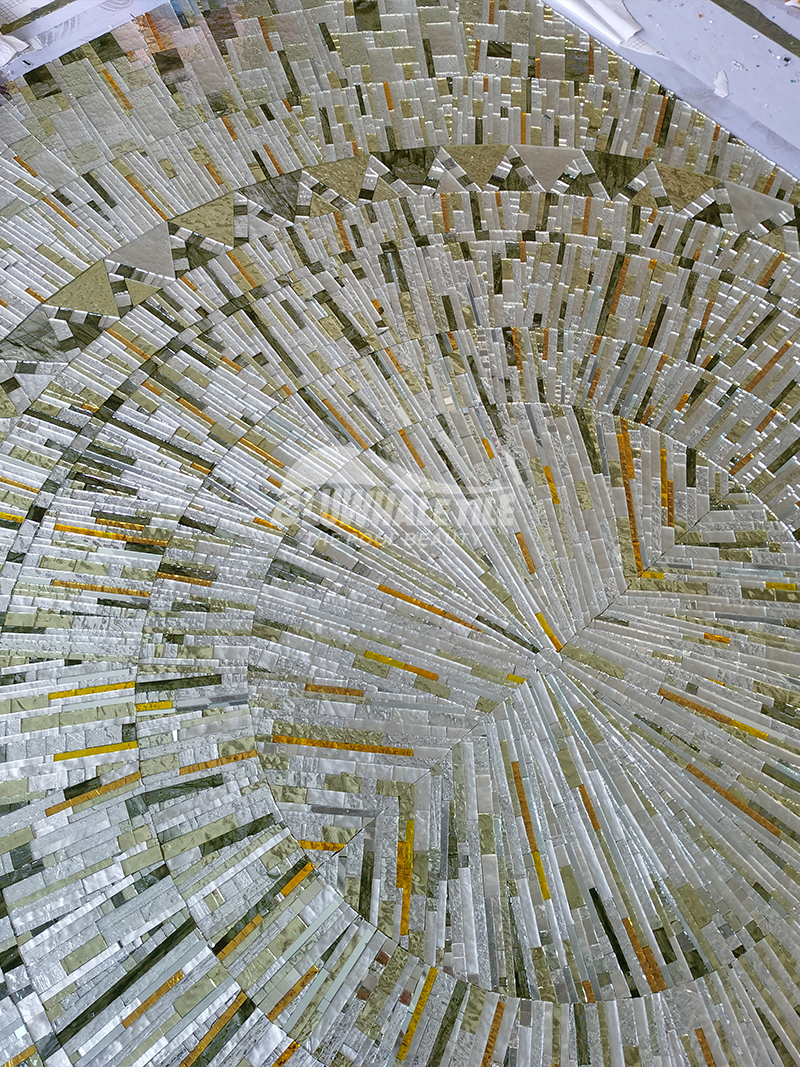 Every one of the chic chips of glass, ceramic, or stone in your mosaic art is placed by their hand. The worker will choose each tessera from the basket and use great care and precision as they glue it to the mesh backing. Depending on the size of each mosaic, this may require the use of tweezers, or added with delicate use of their hands.
Also, once the chip is completed, we might go on to frame it per customer specifications. This is another choice we offer to our clients, who might hope to display their chip of mosaic mural on a wall without any further installation steps.
Otherwise, our finished designs are then ready to deliver to our client as one piece on a mesh backing. Each mosaic design is rolled, wrapped, and shipped from within our workshop. What is noteworthy is that our turnaround time is only 20 days for most custom orders and we offer the shortest lead times in the market.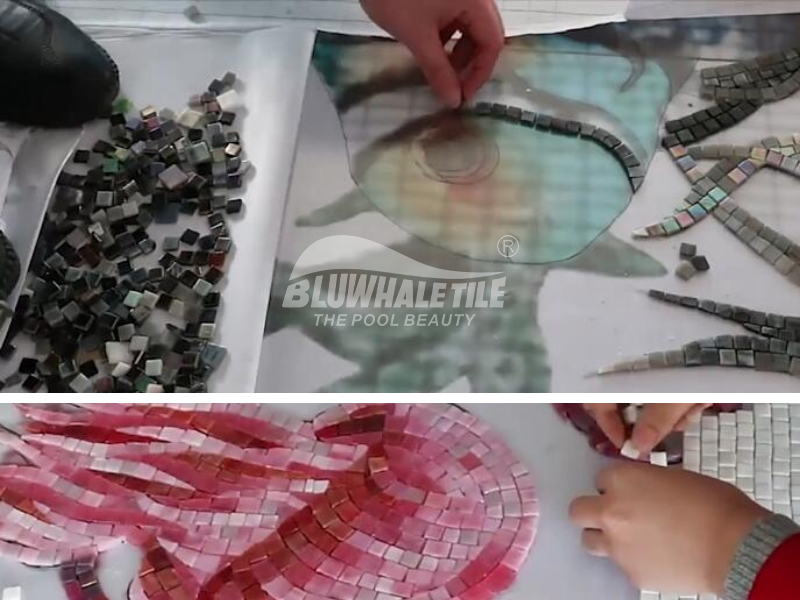 Nevertheless, the surfaces that we utilize for our mosaic mural are strictly a matter of personal preference. The appearance that clients prefer is always a compliment to their personal style and the interior design elements that are already present.
We presented a more stylish look at the choices and examples of surfaces in a previous project blog "Swimming Pool Project: Fish Pool Pattern Design Plan"
Once you have submitted your final design idea to our designer, they will go to work on your mural order, using the same steps. We provide an incredibly abundant client experience here on our online store, allowing you to modify all custom and existing mural designs, alter glass, ceramic, or stone tones and even resize your order to wonderfully fit your space.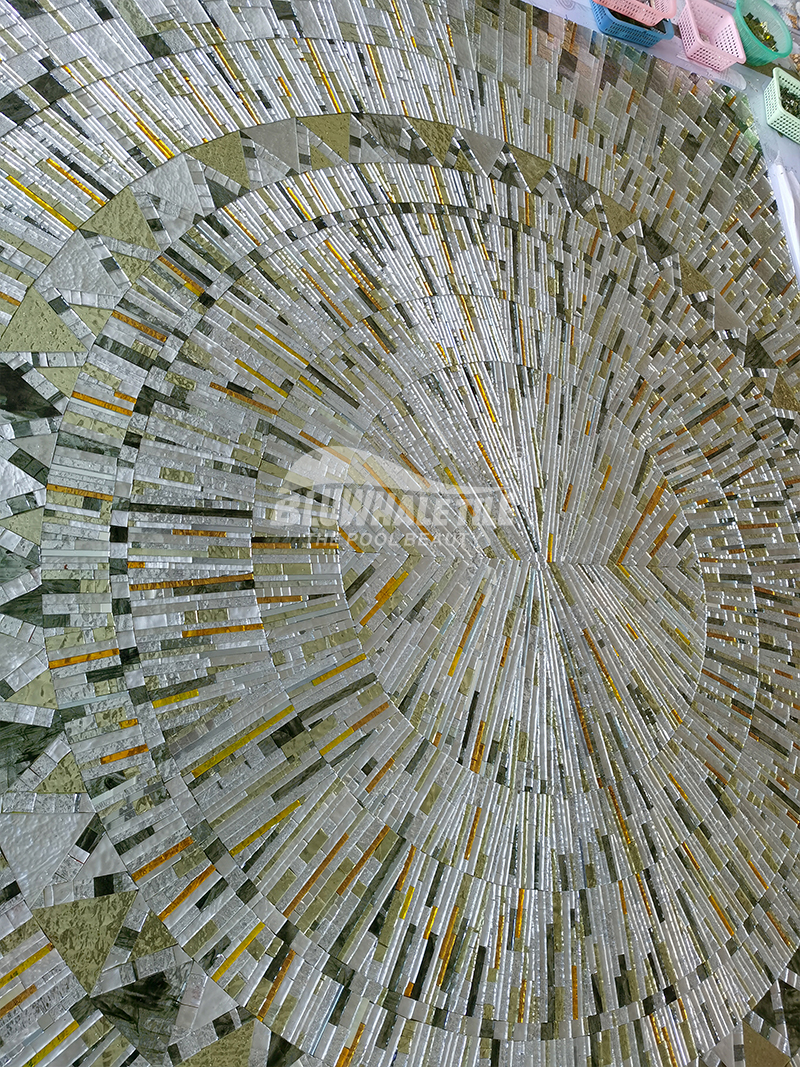 Think about how a chip of mosaic art will look in your own space? Simply use our visual design scene to place a mosaic art from our catalog on your space. You might also try out frames, calculate the whole size you want. Moreover, you can get the final price for your final choice. As we all know that the timeless great looks, durability, and suitability for all types of weather, wet areas. Other environments make mosaic art designs ideal for any space. By the way, our mosaic art designs are creative and interesting on living room walls, kitchen backsplashes, showers, swimming pools, or even hotel lobby!
Get inspired?
Have you gotten inspiration from this elegant mosaic mural? If you have any questions about mosaic art design, swimming pool design, and anything in between, feel free to ask away on our online shop. Also, don't forget to follow our Instagram Bluwhale Tile for all things mosaic art designs. We will be sharing appealing content there soon.