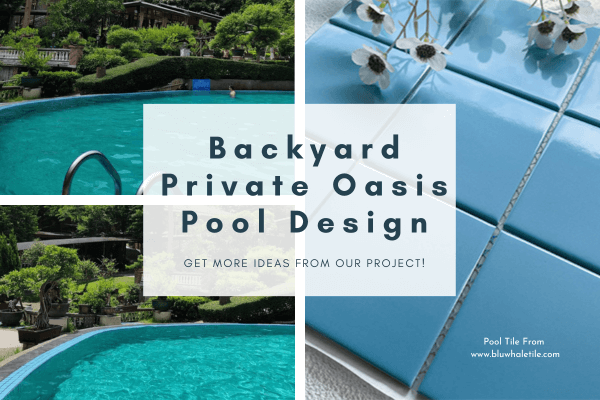 Welcome to our exclusive project—an extraordinary backyard pool construction that brings luxury, relaxation, and sheer elegance to your private villa. In this project, we have meticulously crafted a magnificent pool featuring the breathtaking 4x4 glazed sky blue porcelain pool tile, creating an immersive aquatic haven that will leave you spellbound. Let us take you on a journey through this exceptional undertaking, where every detail is designed to exceed your expectations. Keep reading this blog to know more about this project...
#1 Unleashing the Beauty of the 4x4 Glazed Sky Blue Porcelain Pool Tile
The moment you lay eyes on the 4x4 glazed sky blue porcelain pool tile, you are mesmerized by its captivating charm. The rich, sky blue hue invokes a sense of calm and serenity, creating an oasis of tranquility in your backyard. As sunlight dances upon the smooth, reflective surface, the pool transforms into a shimmering sanctuary, captivating all who behold its beauty. Whether you seek a serene retreat or an invigorating swim, the aesthetic allure of this tile sets the stage for an unparalleled poolside experience.
Crafted from high-quality porcelain, the 4x4 glazed sky blue pool tile is a testament to exceptional durability and longevity. As the centerpiece of your pool, this tile is designed to endure the rigors of outdoor use and withstand the test of time. Its robust composition ensures it remains resilient against the elements, including UV rays, frost, and heat, preserving its vibrant color and luster for years to come. This pool mosaic tile is a true investment in your pool's enduring beauty, offering unparalleled performance that stands strong against the wear and tear of regular use.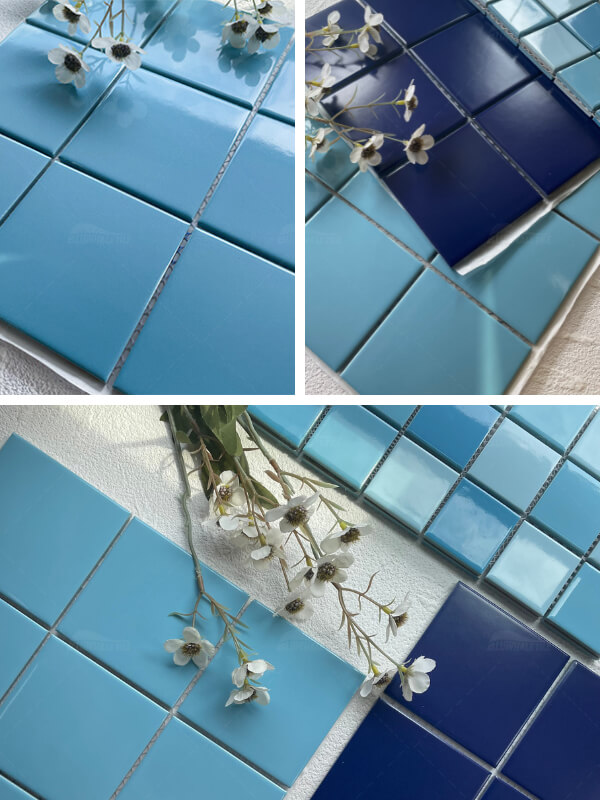 Featured Product: 4x4 glazed porcelain sky blue swimming pool tile CMG601B
Enhancing its appeal, the pool tile features a glazed finish that serves as a shield against various elements. The glaze provides a protective barrier, safeguarding the tile from water absorption, stains, and chemical damage. This unique feature ensures that your pool tile remains as stunning as the day it was installed, with minimal maintenance required to maintain its pristine appearance. The glazed surface also enhances the tile's slip resistance, providing added safety for swimmers and ensuring worry-free enjoyment of your pool.
Incorporating the 4x4 glazed sky blue porcelain pool tile into your pool design not only enhances its aesthetic appeal but also guarantees long-lasting performance and ease of maintenance. Its captivating charm, durability, and protective glaze make it an irresistible choice for creating a radiant sanctuary that elevates your poolside experience to new heights. Unleash the unparalleled ambiance of this marvel and revel in the sheer elegance it brings to your private oasis.
#2 Embracing the Vision: The Backyard Pool Construction
This section will outline the exemplary features and considerations that make this backyard pool construction truly extraordinary—going beyond the ordinary to create a haven that embodies indulgence and relaxation.
Architectural Harmony
The pool's design seamlessly integrates with the surrounding landscape, with meticulous attention to detail. The synergy between the 4x4 glazed sky blue porcelain pool tile and the overall design imparts a sense of serenity and elegance, creating a harmonious environment that immerses you in luxurious bliss.
Tranquil Water Features
To enhance the ambiance, we have skillfully incorporated tranquil water features on the poolside, such as gentle cascades or a relaxing fountain, that complement the pool's aesthetics and contribute to an oasis of serenity. The interplay of water and the iridescent blue pool tile creates a mesmerizing visual spectacle.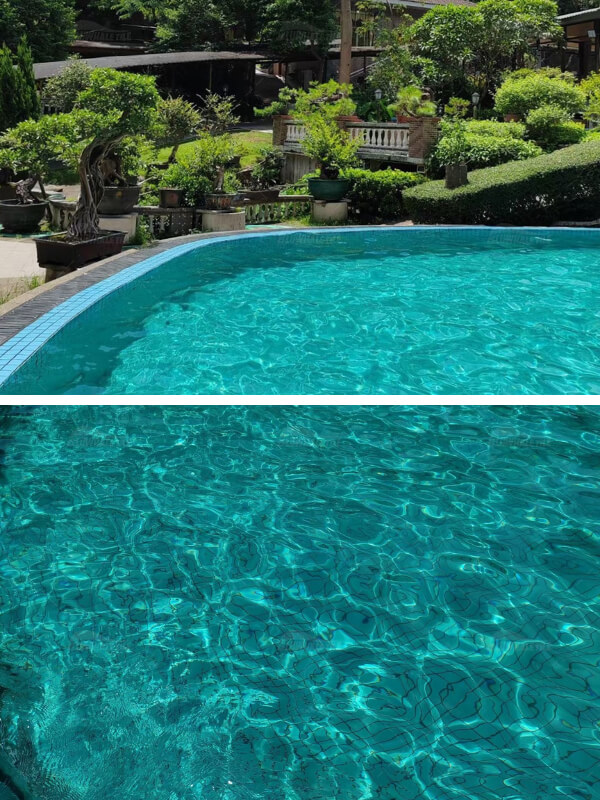 Bespoke Poolside Retreats
Adjacent to the pool, we have created bespoke poolside retreats—pampering spaces for relaxation, lounging, and entertainment. Immerse yourself in the ultimate luxury with shaded cabanas, stylish loungers, and meticulously landscaped greenery, all meticulously designed to harmonize with the pool's beauty.
Enhancing Safety and Accessibility
We understand the importance of safety and ease of use in your private oasis. That's why this pool is equipped with a sleek and sturdy stainless steel handrail ladder, providing effortless access to the sparkling waters. The well-positioned and stylishly designed handrail ladder ensures that all swimmers, from young to old, can confidently enter and exit the pool with grace and ease. It also adds a touch of sophistication to the pool's overall aesthetic, marrying functionality with form.
#3 Experiencing Paradise: The Poolside Lifestyle
Immerse yourself in the azure waters of the pool, relishing the cool embrace that washes away the day's worries. The serene ambiance and exquisite surroundings provide the perfect backdrop for rejuvenation and wellness, as you unwind in your private sanctuary.
Celebrate life's precious moments with family and friends in the epitome of elegance. The pool's sophisticated ambiance and luxurious amenities set the stage for memorable gatherings and lavish poolside soirees, creating lasting impressions and cherished memories.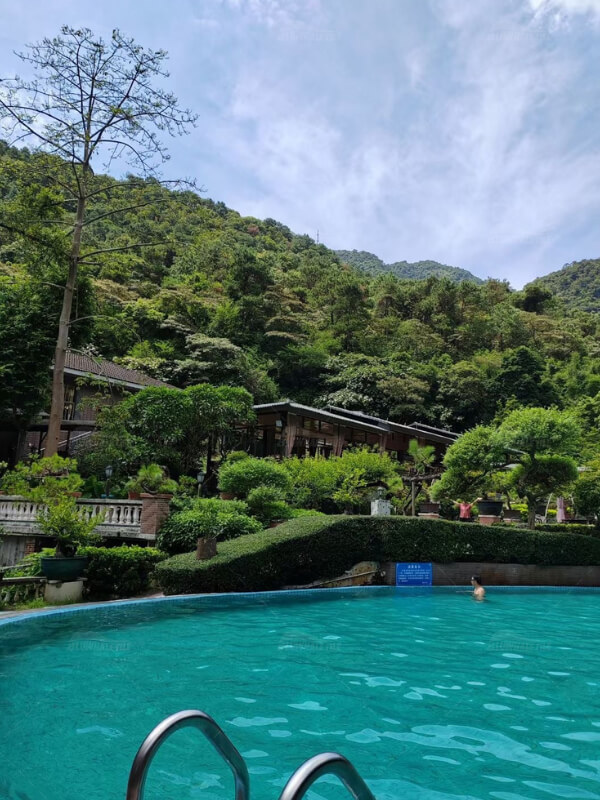 In this pool project, we have brought to life a captivating backyard pool construction that transcends the ordinary, transforming your villa into a private oasis of indulgence and beauty. The enchanting 4x4 glazed sky blue porcelain pool tile takes center stage, imbuing the pool with an ethereal allure that astounds and mesmerizes. Embark on a journey of luxury, tranquility, and joy as you immerse yourself in the extraordinary poolside lifestyle crafted exclusively for you.
With 17 years of expertise as a professional factory and wholesale supplier, Bluwhale Tile guarantees meticulous attention to detail, unrivaled craftsmanship, and flawless project execution. From conception to completion, we are dedicated to delivering high-quality pool tiles that will surpass your expectations. Join our ever-growing list of delighted clients and embark on a journey to create an extraordinary rooftop pool that will redefine your outdoor living experience. Contact us today to initiate a conversation about your dream pool design, and let our team of experts transform your vision into a breathtaking reality.