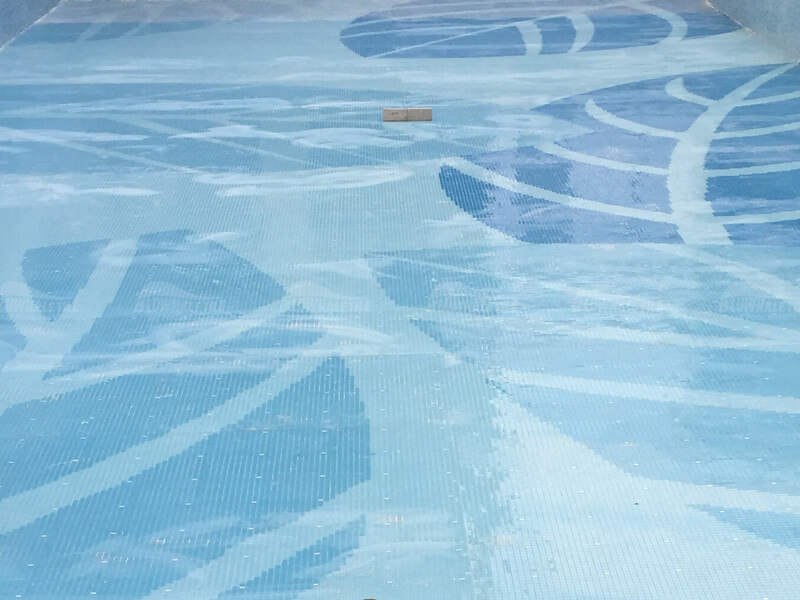 Over the years, new and chic trends in swimming pool redecorating and construction have become personalized and more customized to fit the needs of each homeowner. Regardless of your unique and distinctive taste, you can transform your swimming pool into a resort-style pool setting that exudes character and glamour. Whether you are looking for a few additions or building a new swimming pool from scratch, consider customizing amazing pool murals and planing appealing pool features. Keep on reading this new pool project, get some inspirations right now:
1.Leaves Pattern Pool Mural
We loved this swimming pool project so much that we decided to name this stunning customized mosaic art The Blue Tones Leaves! This perfect palette is a mixture of light blue, sky blue, ocean blue, and mix blue colors. Wrap your swimming pool floor and walls with this blend to add the final touch of comfort. You can get this comfortable Blue Leaves Pool Mural, why not customize one for your pool now?
For more leaves pattern pool project, visit our blog: How Does The Leaves Pattern Mosaic Mural Create A Sparkle >>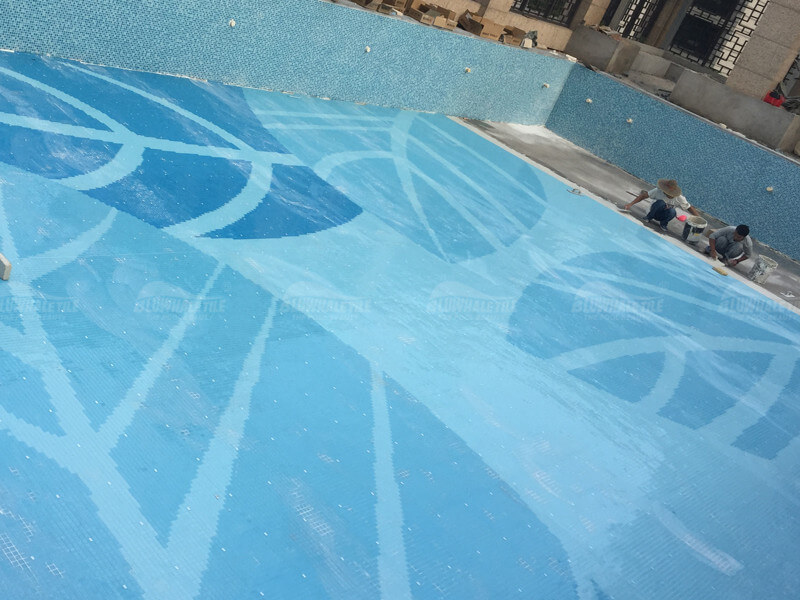 2.Texture of Blue Leaves
Taking a closer look at our Blue Leaves now. We use the light blue glass tile as the leaves vein and the mid-blue glass tile as the mesophyll. Just like the real leaf! The reason why we use the blue color rather than green color is that combines with the outdoor pool space. And our client prefers the classic pool color - BLUE!
For more pool mural design ideas, visit our blog: Appealing France Hotel Pool Design >>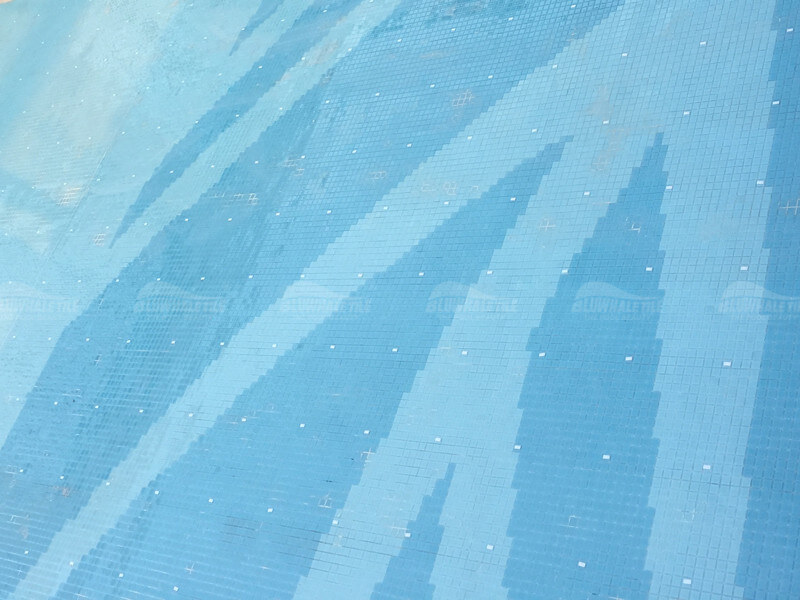 3.Monochromatic Ocean Blue Palette
4mm thickness crystal swimming pool glass tile is one of the most popular tiles for swimming pool projects, the blue color features transparent and looks great underwater and light. In this project, we use this ocean blue color as the mesophyll, make it outstanding from the light blue background.
For more details of this glass pool tile, visit our blog: 4mm Thickness Crystal Glass Mosaic Tiles Make A Classic Swimming Pool >>
Featured Product: 25*25mm Crystal Glass Mosaic BGI601F2
4.What Are Scuppers In Pool Walls?
Commonly attached to a pool's wall, the scuppers deliver a waterfall-like look and allow water to flow into the whole pool area. You can install several waterfalls to the pool walls, which will show an attractive visual effect. Scuppers come in a diverse variety of shapes and sizes from different materials such as stainless steel, plastic, etc. Whether your swimming pool has a contemporary or dynamic design, we guarantee that it will improve the aesthetic beauty of your pool.
For more pool wall design ideas, check out our blog: How To Design Refreshing Home Pool Style In 2020 >>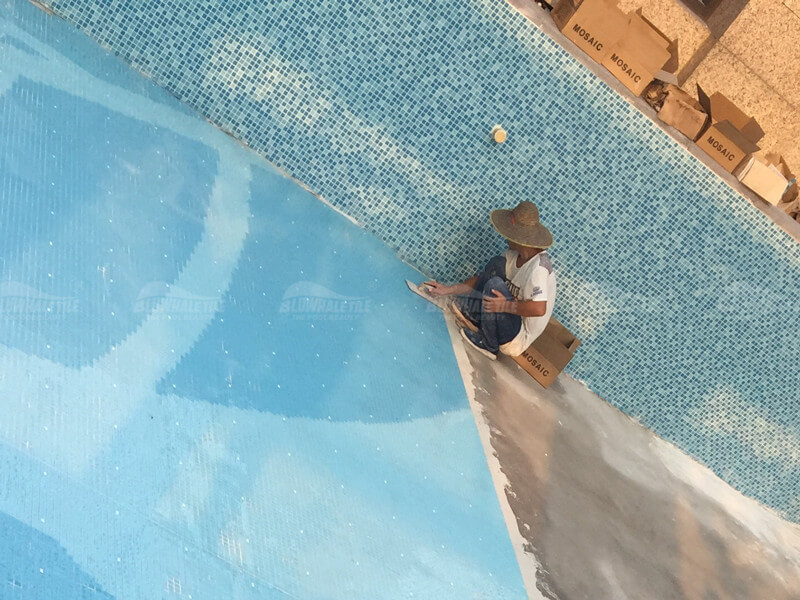 5.Pool Waterline Design
The interior of a swimming pool provides an infinite canvas that can be tailored to your design preferences. Because of the reflective nature of crystal glass and pool water, pool tiles installed throughout the whole pool waterline area can create a stunning effect. This wonderful pool waterline finish can enhance the appearance of your pool style and allow you to take advantage of the ever-changing play of sunlight, pool water, and crystal glass.
For more pool waterline design ideas, visit our blog: Pool Waterline Series >>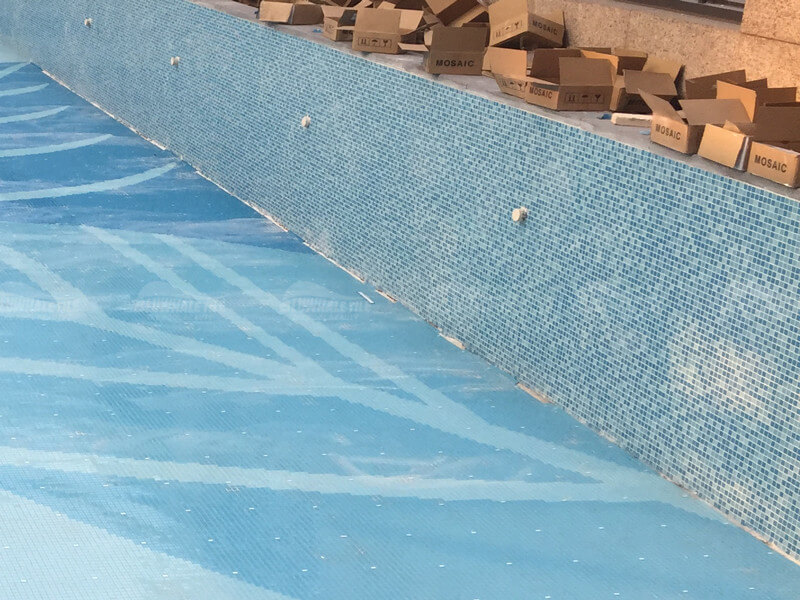 6.Mixed Blue Hue
If you are seeking for a mosaic tile pattern that can make a classic style swimming pool, this 4mm thickness 1x1 inch little glass pool tile in crystal blue mixed color is a great choice for you. Our 1'' square crystal glass mosaic tile is a mix of four colors including dark blue, sky blue, light blue, and white, the crystal glossy is easy to clean and looks so beautiful under the pool.
Featured Product: 25*25mm Mix Color Crystal Glass Mosaic BGI003F2
7.Meet The Edge
While you're meet the end of a pool floor or up against an object and are left with a gap that only limited space to fill with tile or too wide to caulk, you can close it by spreading the rows of pool glass tiles slightly. Please keep in mind that the larger the gap, the more rows you will have to spread to make an unimpressive visual cheat. Try to cut the mesh between the rows with a sharp utility knife. And utilize the edge of your trowel to nudge each row into place, but pay attention to keep the grout lines between the spread-out rows even.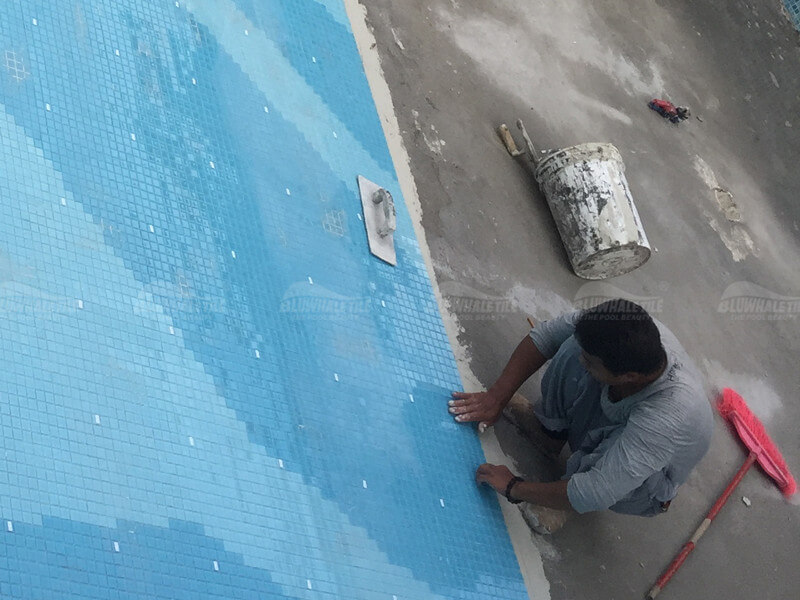 8.Back Mesh Design
Due to our comfortable back mesh design, it's easy to install for the workers. However, we still provide some tips from this project for you. If you don't trim the pool tile edges, the mesh backing that holds pool mosaic tiles together can get in the way. Mesh can stick out into the grout space and cause grouting trouble. And protruding the mesh back can keep you from pushing adjoining sheets close together. Therefore, before you set pool mosaic sheets, check them and slice off any excess backing with a sharp utility knife.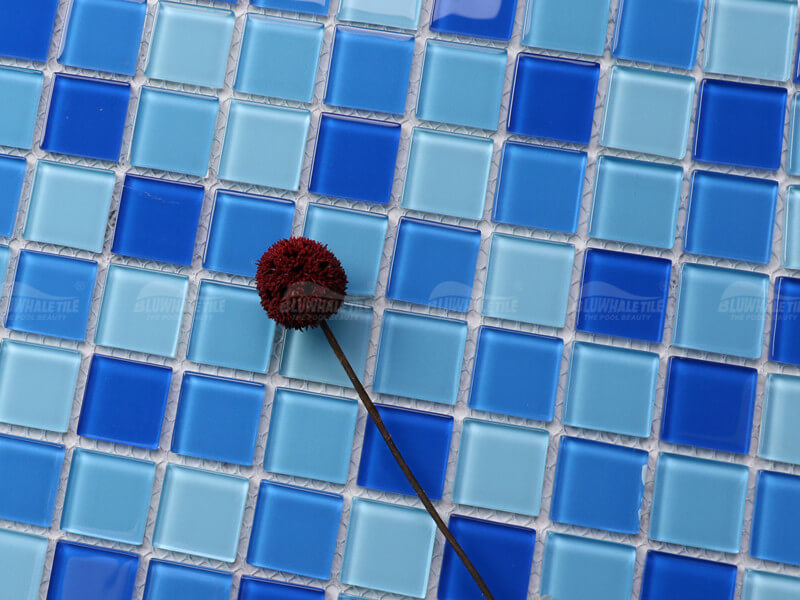 Featured Product: 25*25mm Mix Color Crystal Glass Mosaic BGI006F2
10.Make Them Flat
It's important to use the trowel to make the pool tiles flat, but keep the face free of grout, which could scratch the pool glass tile. By the way, a wood float might be a great tool, the worker is holding his trowel to keep each pool tiles flat.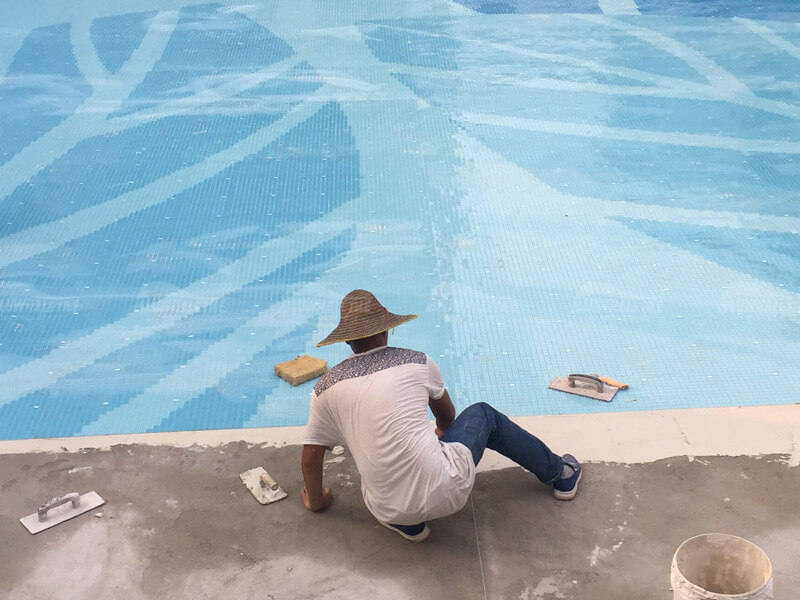 11.Pool Deck - Travertine Stone
Available in a range of colors and types, the natural travertine stone pool deck offers the advantages of being durable and lending a sophisticated appeal to the swimming pool area. One of its distinct advantages is its resistance to heat, offering a cool finish for swimmers and patio loungers. The porous nature of travertine causes it to absorb water incredibly instantly, which provides an anti-slip surface.
For more trendy swimming pool deck inspirations, visit our blog: 9+ Thick Outdoor Porcelain Pavers >>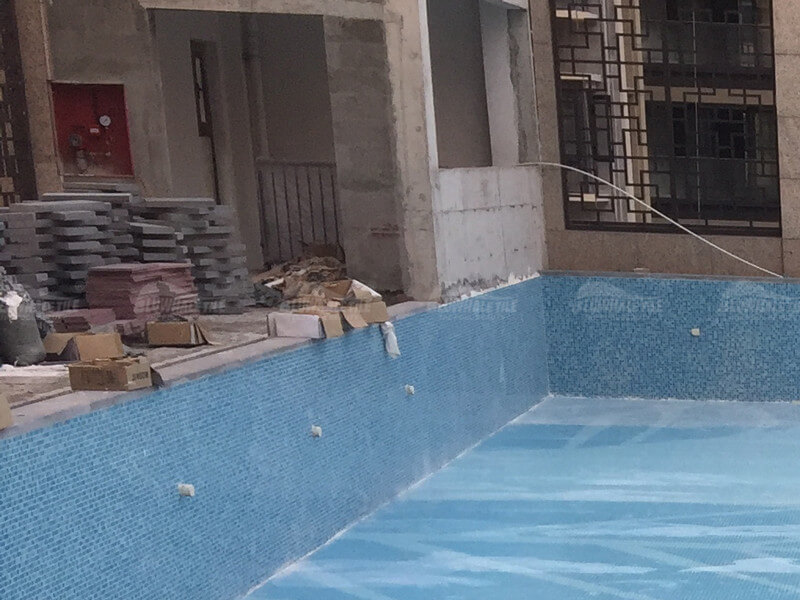 Featured Product: 18mm Thickness Beige Travertine Stone ZOD2902


Get inspired?
Love this leaves pattern pool mural? Adding customized pool mosaic art into your swimming pool project will surely make your pool parties a big hit. As a professional pool supplier, Bluwhale Tile will provide trendy pool news for you. Know more about pool mural design ideas, contact us immediately! We are so excited to hear your creative ideas and your future pool plan.