So thrilled to see our customer completed her swimming pool remodeling project with evidence satisfaction. Mrs. Yang, who dwells in Foshan's one of the best superior residences, urged to find mosaic art that will give a new look to her obsolete pool two months ago. When she came to consult us about the customized service in details, she showed an avid interest in the capability of our design team. And after seeing some mosaic pool art released on our official website, she couldn't wait to express her desire for a great pool bottom design. BluwhaleTile still remember the scene: Mrs. Yang was managing to describe her imagination while sketching the pool shape, garden landscaping and other decor placements with a pen on the paper. Her eyes filled with excitement and her hands gestured rhythmically. She told us the pool is calabash-like, inside coated with white grout. Years went by, the grout was peeled off and spots dispersed wildly, which make the pool look worn and dirty.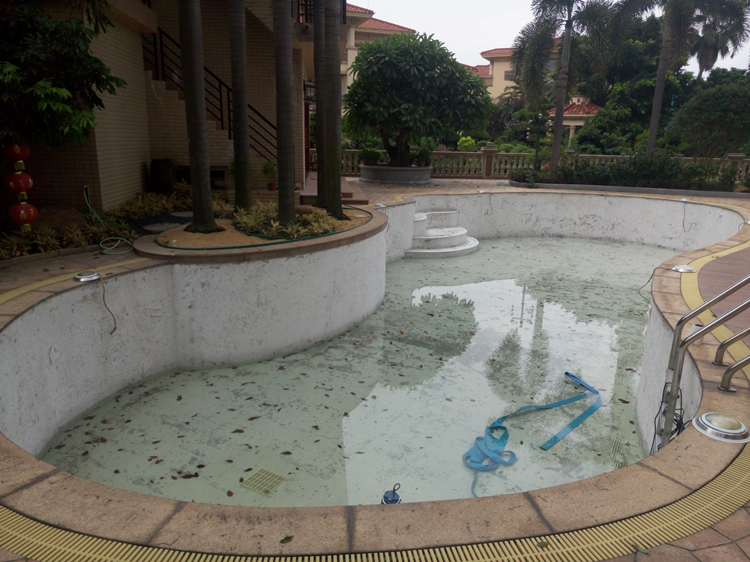 During the talk, we know that Mrs. Yang has a young son who really loves swimming and always invites his little friends to join. Once, Mrs. Yang supervised beside the pool watching them hoyden cheerfully. Suddenly a pool remodeling idea came to her mind: why the pool looks staid and old-fashion that strongly contrasts with the vitality the kids have? Why can't we build up a pool that is fun and lovely?
Our design team firstly did a survey with these little kids. Based on the description, they soon decided the theme of the design: Miraculous Underwater Creatures, and picked up one of the four favorite animals. To make them lovely, all animal characters are designed in the cartoon way: two smiling dolphins, a chubby lobster, a naive clownfish and a gentle starfish. Within a week, all work was proceeding smoothly: brainstorming, measurement, design, modification, final draft. Mrs. Yang and her son are wholly satisfied with the design and long for the completion of the project.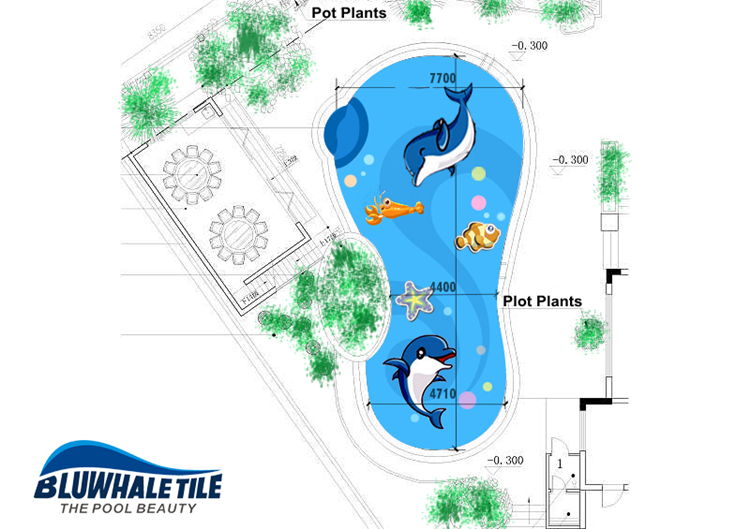 In the following 20 days, our factory was working hard based on the production drawing. We have a professional team that can give you considerate service on engineering drawing. This will help the project being carried out more smoothly. By the way, Mrs. Yang shares how she is joyful about the new look of her pool by sending us a small video. We genuinely congratulate her and love to see more customers can make their dream pools come true with our help.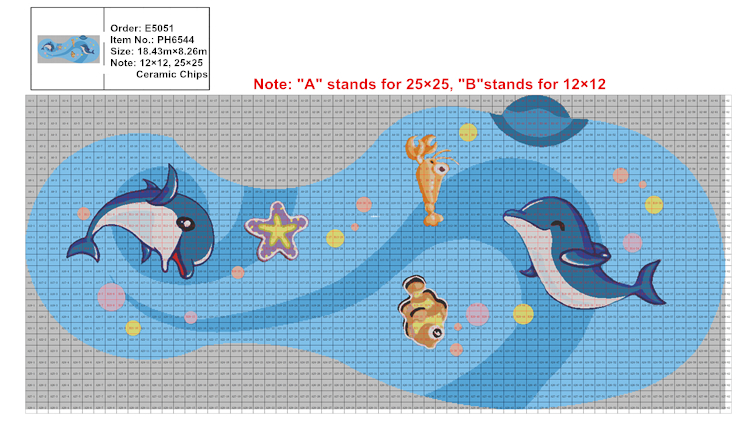 POOL Bottom Design Draft by Bluwhale Designer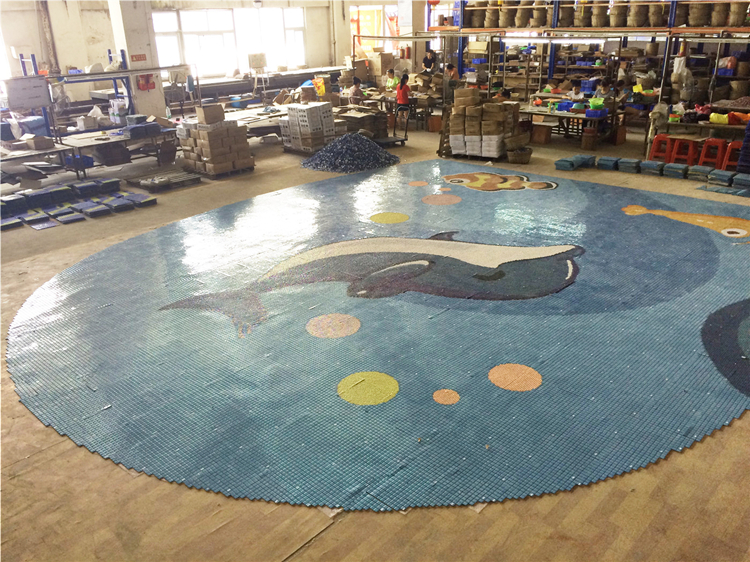 Mosaic Pool Art Production
Each ceramic chip is high-gloss and carefully chosen by hand to ensure uniform quality. All chips are glued tightly on the mesh according to different color section. Mosaic tile sheets are tagged with a identity sticker that helps the final combination when installing.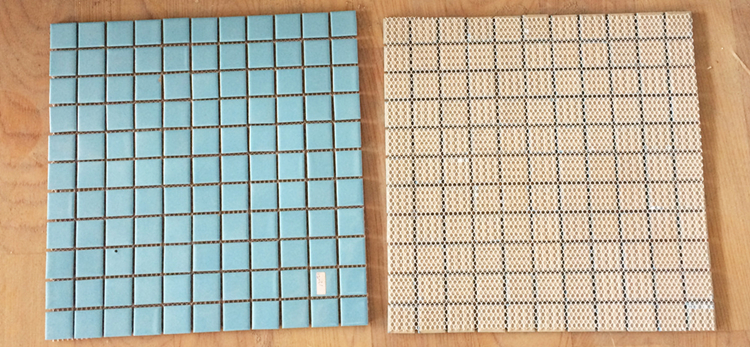 Featured at: BCI606

Our QC was watching closely the production process and gave feedback to the customer. Problems were figured out soon once came up. Thanks to the effort of customized service team, Mrs. Yang highly praised our detail-focus attitude and professional assistance.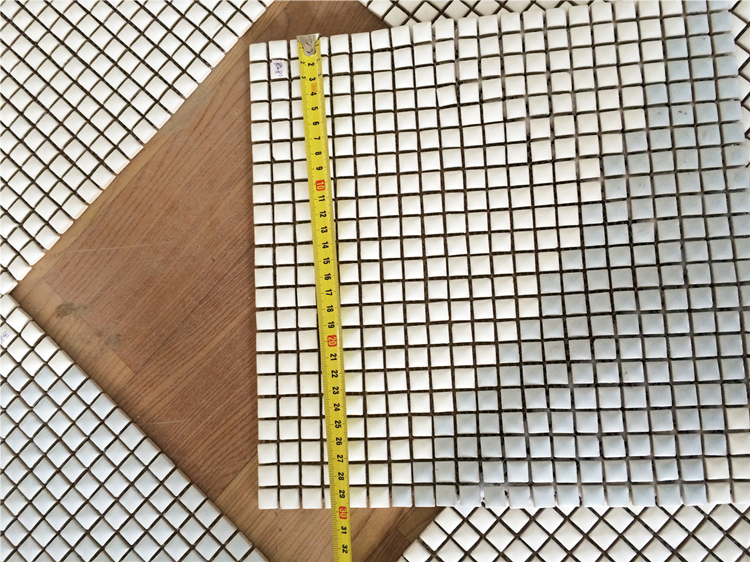 Following are some zoom-in details of the customized mosaic picture. From those you could see the delicate craftsmanship. Tile surface is glazed and glossy; color is warm and beautiful; texture is smooth and mild; pattern is vivid and lovely.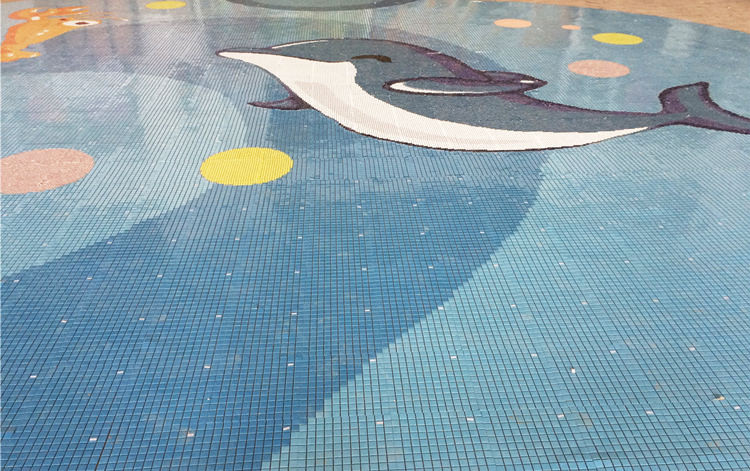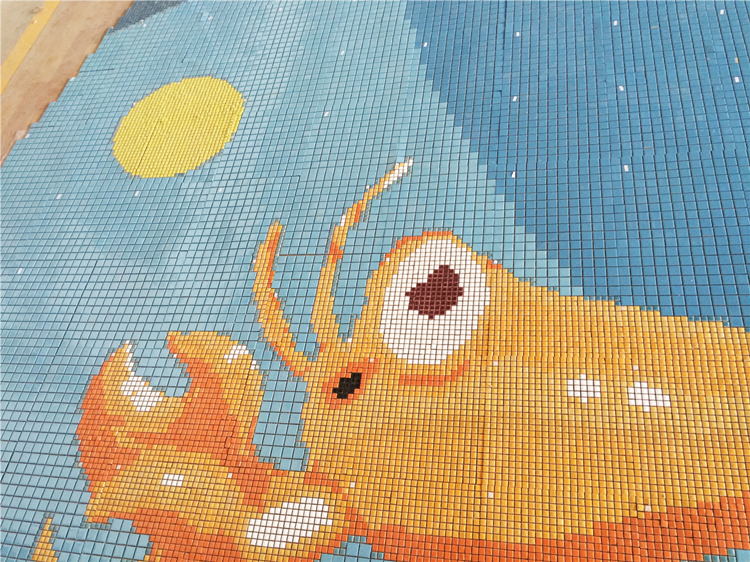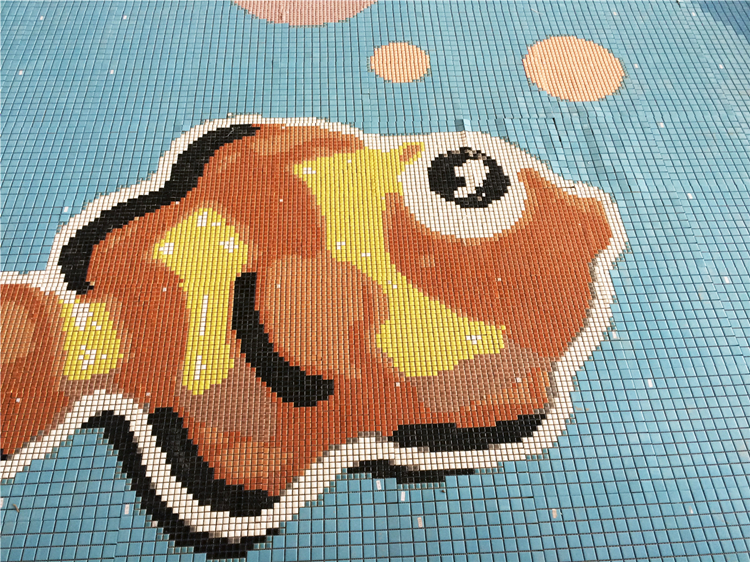 Get inspired? We are glad to hear what has inspired you for next swimming pool project. BluwhaleTile specializes in premium swimming pool mosaic tile supply. We offer customized service on custom mosaics, pool tiles, pool art and any related pool accessories of any residential and commercial projects. Welcome to contact us TODAY for more info.