Adding the aesthetic feeling of your new or renovated swimming pool or fountain pool with the addition of handmade swimming pool mosaic tiles. Over the past three to four decades, pool owners have increasingly been wanting to add more entertainment and fun to their swimming experience by installing colorful, glazed mosaics to their pools. As the demand for pool mosaics has increased, so has the variety of materials and patterns. Besides, our manufacturing processes have also improved from simple glossy mosaic chip to a whole mosaic art. The variety of designs range from lifelike marine animal to noble geometric pattern. Just like the below fountain pool renovation, the owner chooses the glamorous pattern mosaic art:
Go Geometric Pattern
Don't have enough space for a whole swimming pool? You can still build a fountain pool instead of it, creating a unique design that includes any theme under the sunlight. By using the bottom of your pool as framing for mosaic art, you create a space that is imaginative and plentiful with high visual impact and very long-lasting. For more pool mosaic art pattern design, check out our blog: Sea World Mosaic Murals Ideas >>>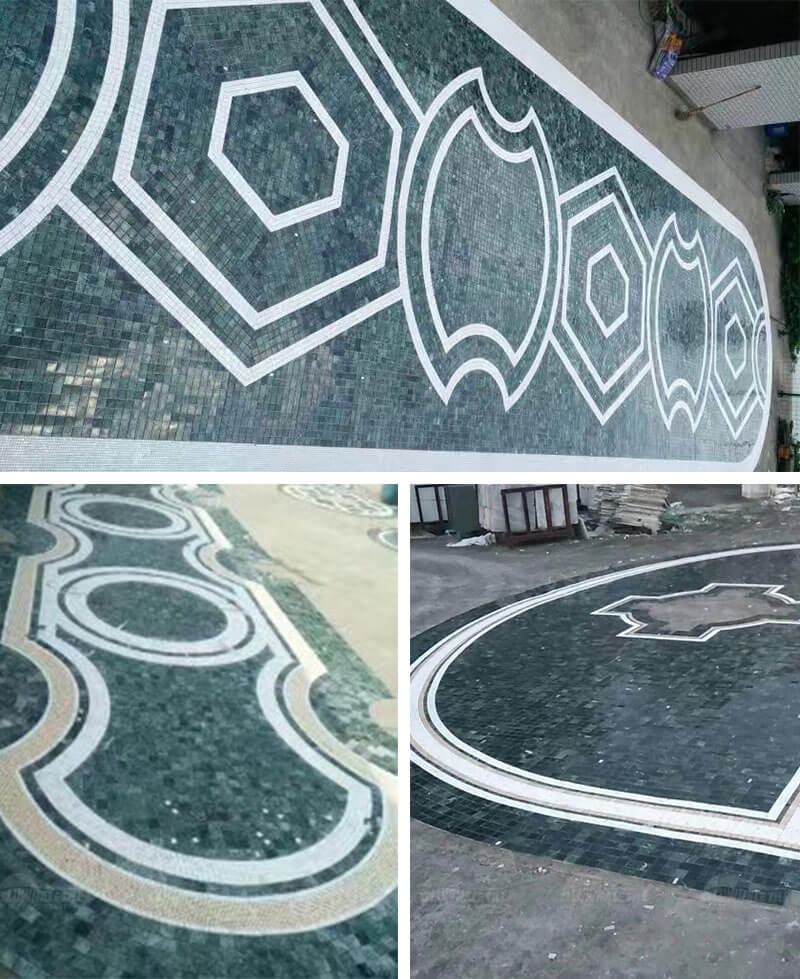 The art of pool mosaic mural is as old as civilization itself, from intricate Eastern patterns to the palatial layouts of the Roman bathrooms. Charming mosaic arts and their characteristic waterlines can evoke faraway places and mysterious dreamland, with creative geometric pattern and abundant tones setting the stage for your own fountain pool. Moreover, in order to pair well with this geometric pattern, we choose the same geometric design waterline pool tiles.
From Chip To Mosaic Art
The color of the mosaic chips usually determines the color of the water in the pool. Blue tone mosaics are often the go-to choice for the inner part of the pool whether it's light blue or dark blue. And the patterns made by the water as it moves over mosaic art create a spectacular display and just like bring the mosaic art to life. Therefore, we choose the dark blue mosaic chip as the dominant tone which can combine well with the surrounding environment. Using the white and beige mosaic chips as the geometric line, follow the outline of the pool and create a unique pattern.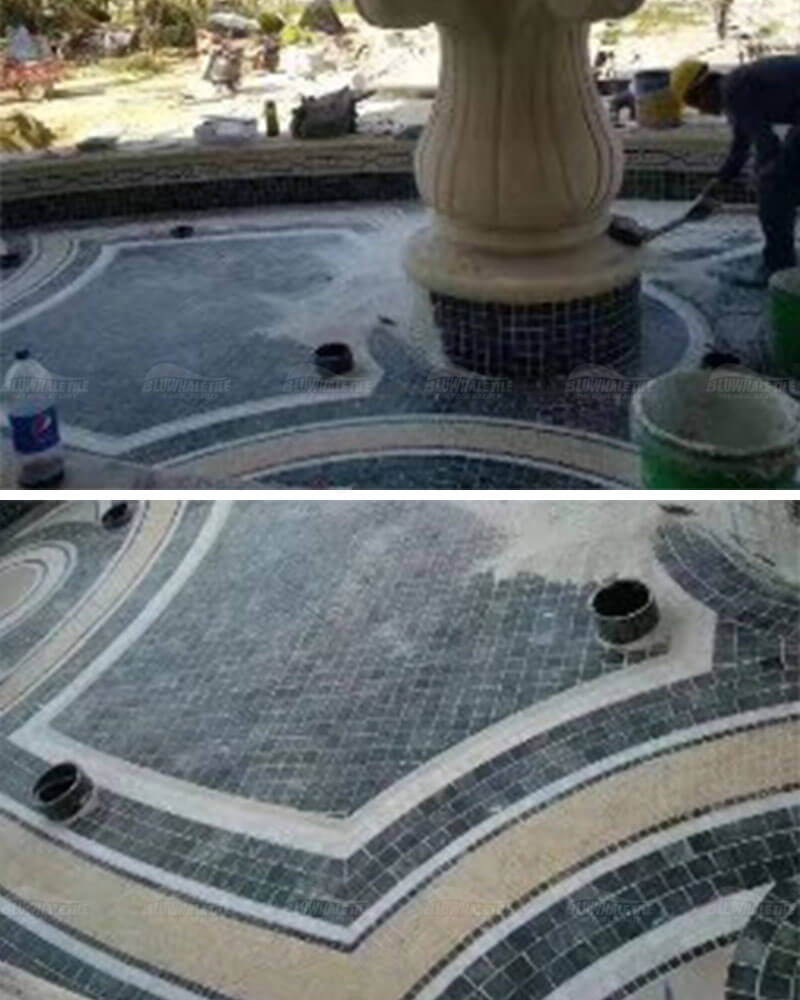 All mosaic chips are select meticulously by our workers. This whole pattern is fully handmade and all pattern designs can be customized as for in dimensions, colors or pattern, all of the below mosaic murals are fully handmade mosaic chips:
Appealing Fountain Pool
How beautiful the fountain pool is! The Owner is so glad and shares his project finished short video with us:
Does his project inspire you? Winter is half over, 2020 summer will come soon! Now is the perfect time to reassess your own fountain pool. Entertaining friends on a sunny weekend and walking after dinner in your backyard will feel all the more beautiful with these understated and minimalist geometric mosaic art. For more awesome swimming pool design project, head to our blog: Natural Design and Warm Tones >>>
Get Any Ideas?
Finishing this blog, you might think that you can create your own pool mosaic art pattern! If you're interested in a custom mosaic art pattern design just contact us with the approximate size and your initial ideas and our designers will make a custom pattern to your specifications. What's more, you can see more examples of our project blogs. Please don't hesitate to share your thoughts with Bluwhale Tile!