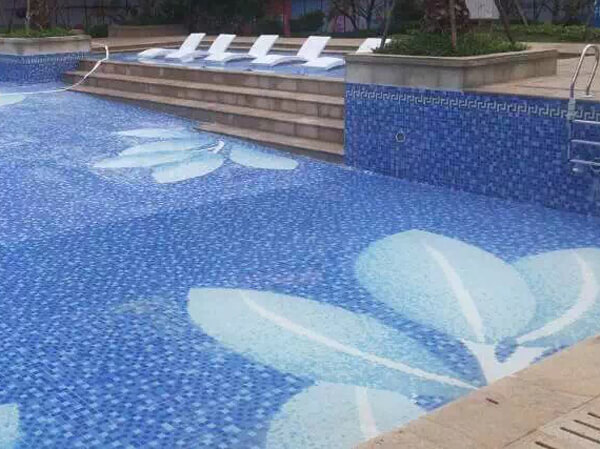 Curious about what it takes to build a stunning hotel swimming pool project or comfortable spa space in the resort? Every owner should ask themselves several significant questions and consider some key points before starting a renovation plan. Choosing what pattern for your swimming pool bottom will be the first thing. Because a beautiful and characteristic mosaic mural pattern will leave your guests' a deep impression and show your good taste. Here's a hotel project from one of our clients, which use the unique design leaves pattern mosaic mural as the pool bottom decoration. Read on our blog to know more about this project:

The Leaves Pattern Space
Why we always choose mosaic tiles as our pool project material? Whether it's glass mosaic or ceramic mosaic, both of them can be put together into a beautiful swimming pool mosaic mural. Each chip brings abundant colors and fresh vibes into any space and these mosaic murals can be freestyle or traditional, but they're always eye-catching and an audience-proof way to give your pool that "wow" element you're after.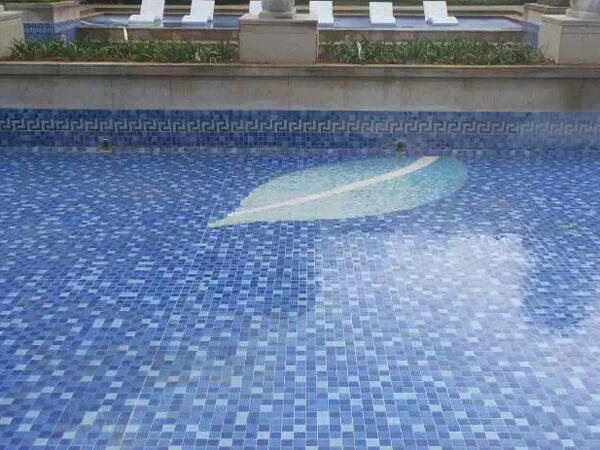 Swimming pool mosaic art can be small size and cover only a portion of the bottom of very large, covering the whole length and width of the pool bottom. The designs may be abstract or the mosaic tiles may be used to create a picture. Many pool owners model their pool mosaic art after photographs of favorite things or unique memories. Just like the owner of this project, he prefers to natural things and especially likes the summer leaves, due to the symbol vitality. After determining the leaves pattern, color choices are the important thing we need to consider. Some owners might think the pattern choices are limited only by the mosaic tiles they can find. However, Bluwhale Tile not only has a conventional cool palette such as blue and green but also warm tones such as vivid red and fresh yellow. Blend colors are allowed in our mosaic tiles. Sharing your bold thoughts with our designer, throwing out the changeless pattern and create a unique mosaic mural that suits your hotel or resort decor style and never out of the style! Checking out our blog for another attractive hotel project: Swimming Pool Project - Natural Design and Warm Tones >>>
Installation Process
The entire leaves pattern is handmade by our professional workers. After receiving the pattern design drawing, they choose the corresponding quantity of 25x25mm blue tone ceramic mosaic tiles and complete this leaves pattern.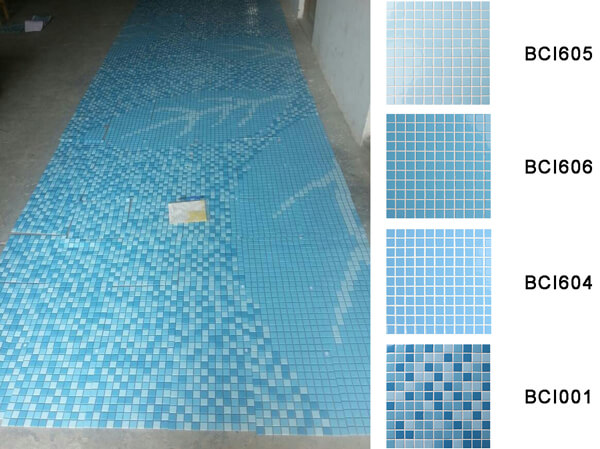 Featured Product: Swimming Pool Mosaic Tile, Classic Blue Mix, BCI001
Our mosaic tiles all have the humanized back mesh design. People might think that mosaic tiles look difficult to install because there are so many pieces with different, which is easy to make the workers dazzling. But oppositely, the back-design mosaic tiles make the installation super quick, especially for the large area, like the swimming pool bottom. Head over to this blog to know more about our professional installation: Swimming Pool Project - How Landscape Painting Blend Into Pool Bottom >>>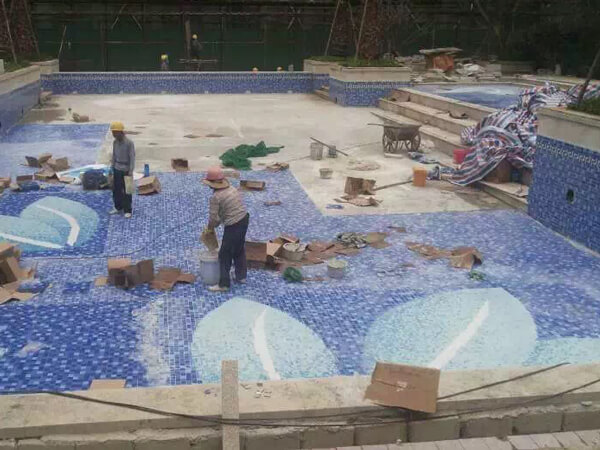 Leisure Areas Also Plays Well
Whether it's swimming for sport or entertainment, there is something highly enjoyable relaxing in the leisure space. Some details will show the humanized and functionality of this project:
Multiple Steps are Comfortable
What can add brilliantly to the swimming pool project? Not only do our designers look to design beautiful pools, but they ensure the swimming pools are functional and providing features that make sense and are helpful. The functional pools always have a step or steps on both ends or both sides, which offers many options for entry or exit.
Relaxing Your Body with Sun Lounger
When it comes to pool leisure areas, sun loungers are essential to put in it! The best leisure loungers are following human mechanics so that you can reading your books or chatting with your friends while relaxing the body. For more pool furniture inspirations here: 7 Smart Strategies For Choosing Poolside Furniture >>>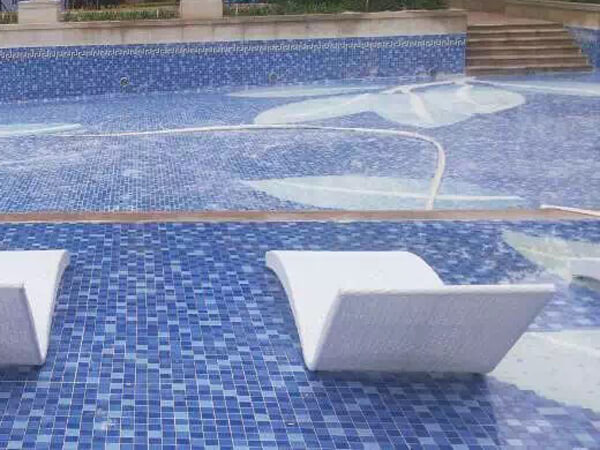 Protect Your Foot with Pool Decking
Natural stone always has a timeless charm, and nothing will last longer, just like the travertine pool decking in this project. The highly anti-slip surfaces will protect the swimmers from slipping and the lighter palette will help things stay cooler. For more pool decking ideas, maybe this blog will help you: 3 Types Wood Plastic Composite Create Perfect Pool Decking Areas >>>
The Result
More beautiful than we ever could have imagined! The pool leaves pattern mosaic mural is one-of-a-kind, sparkle and eye-catching, which makes them a unique alternative to boring concrete materials or PVC. They become part of the hotel itself, rather than something installed at the pool bottom, which can showcase the hotel's architectural features as well as the owner's personality. Wanna more hotel swimming pool project ideas, check out here: Swimming Pool Project - Philippines Seaside Hotel Pool Renovation >>>
Get Inspired?
Did you get any helpful ideas for this project? Order some tile samples to touch and feel our high-quality products. If you have any creative ideas for your future pool projects or backyard renovation plans, don't hesitate to share with Bluwhale Tile! We continue to share more projects to inspire you!