Where will you spend the rest and recreational time at the hotel? A sprawling leisure space with a swimming pool is great for catching energizing rays of sunshine and warm, refreshing air, but it needs to roll it back indoors while the weather temperatures begin to drop. However, if you had a well-designed indoor swimming pool, you needn't bother with this thing.
Alive water features like pools or fountains can refresh any space, but because these fixtures are generally located outdoors, and they are not accessible year-round. Therefore why not bring the entertainment indoors so you can relax, gather friends or take lots of photos as the seasons change?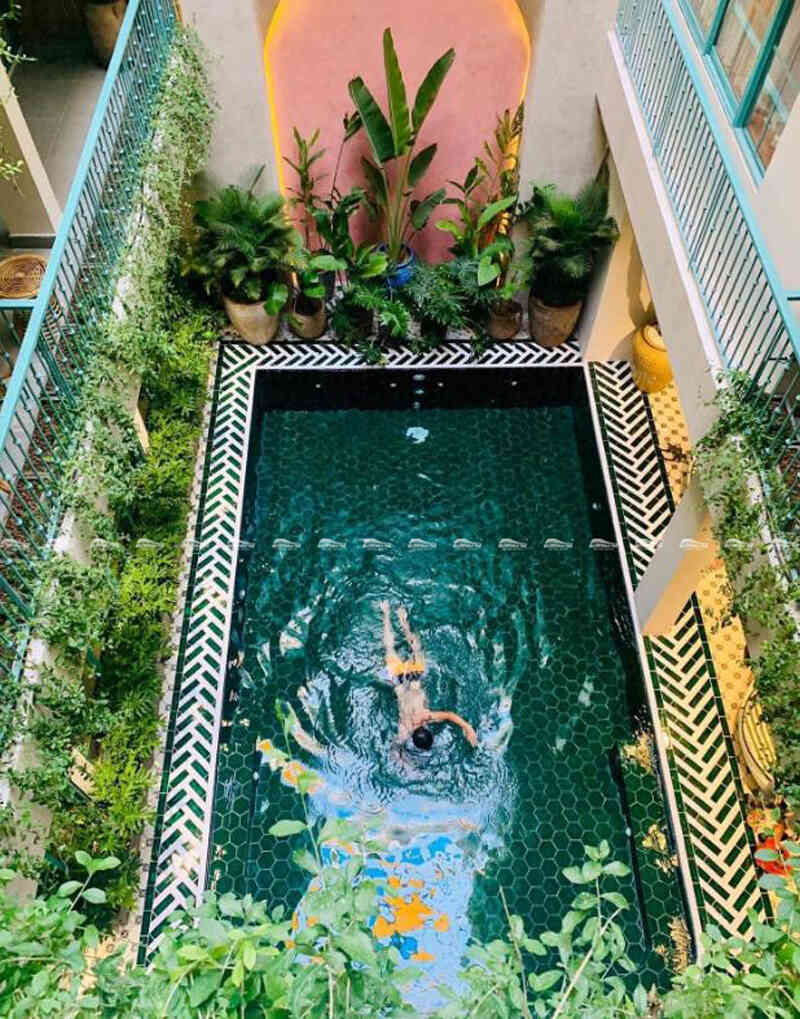 Indoor swimming pools can do that! Keep up with your daily exercise, spend a pleasant time, and give your hotel or home a tranquil ambient that allows everyone to for a dip any time they want. How to choose the materials for the pool can make the tranquil feeling? How to design the indoor pool? Or how to decor the private indoor pool space? Here are some beneficial ideas from our client's hotel pool project - Myyan Retreat to help you plan your future dream place:
Green Pool Tile
How to make the tranquil aesthetic visual feeling? Nothing shines brighter than our Dark Green Series. This glamour glaze palette slips into the teal territory quite all the time. These dark green beauties come out of the kiln ranging anywhere from smooth light green to deep greens. With a glossy and ice-crackle surface design, these 150x175mm large hexagon tiles are unbeatable. The pool waterline, pool interior stairs, and pool deck all utilize the charming and peaceful palettes, which are an all-time favorite of ours.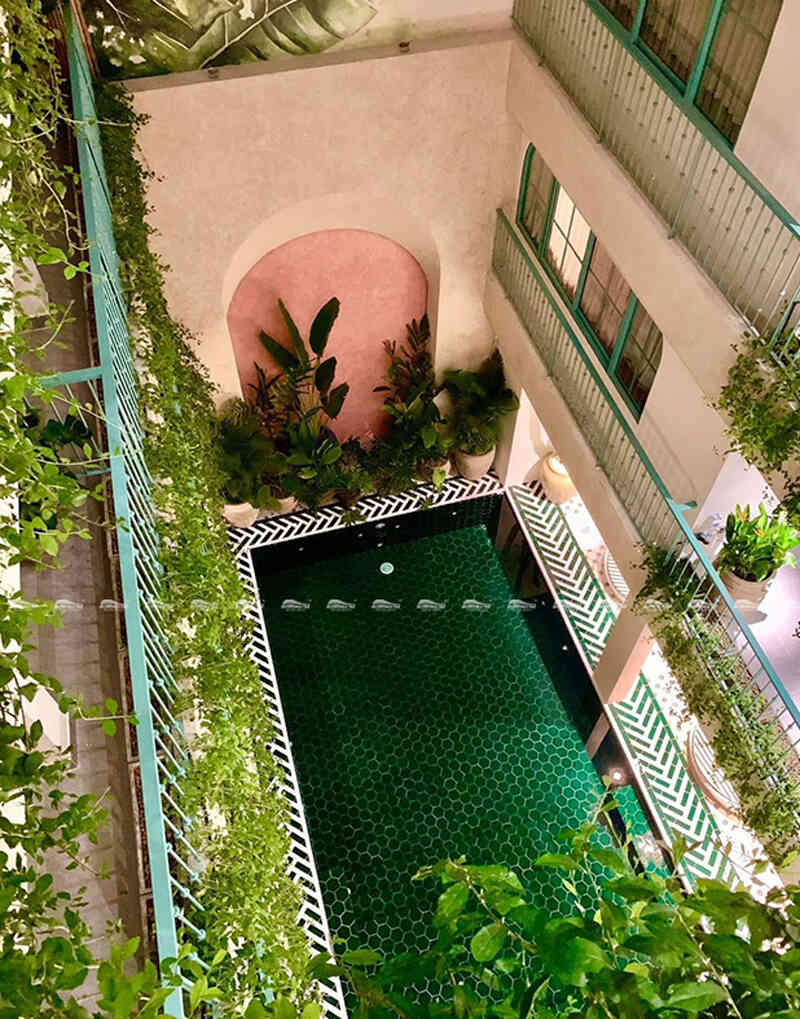 This particular dark green glaze enters more into natural tree territory but we couldn't help but use it for the dominant hue of this pool project due to its extremely appealing abundant tones. With a unique crackle and slight color variation finish, this glaze can encompass anything from cactus to a pine. It's a perfect choice to vivid the whole hotel just like that.
Get more inspirations on green pool tiles to project with our blog: How To Design Refreshing Home Pool Style In 2020 >>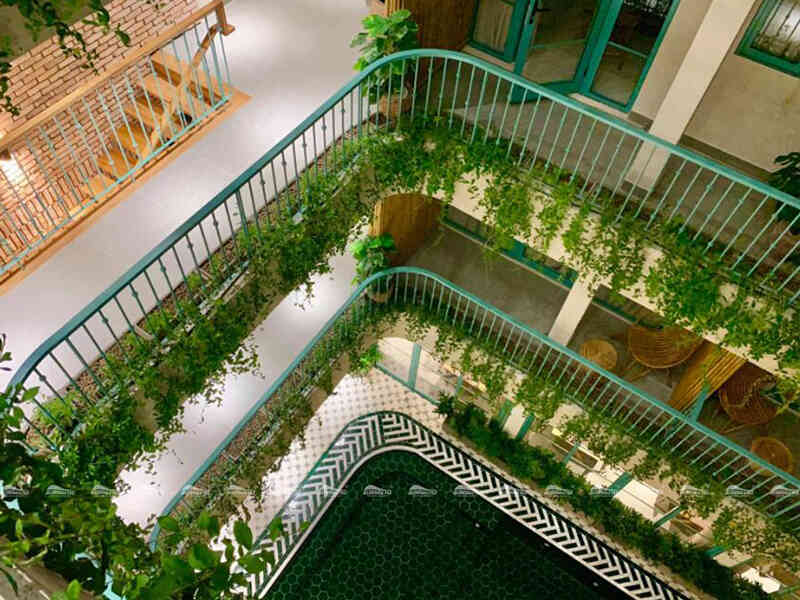 The Perfect Pool Side
Don't forget about your floors when it comes to making a statement. In this project, dark green is the mind hues so we use the white color to harmonize the spreading all-green. White mix dark green is one of the happiest and most welcoming colors, and our perfect glaze and ice crackle finish are the perfect vibrant, yet an ideal option. Show off your bubbly characteristics by tiling the pool deck with this tile.
More poolside design ideas, visit our blog: Appealing France Hotel Pool Design >>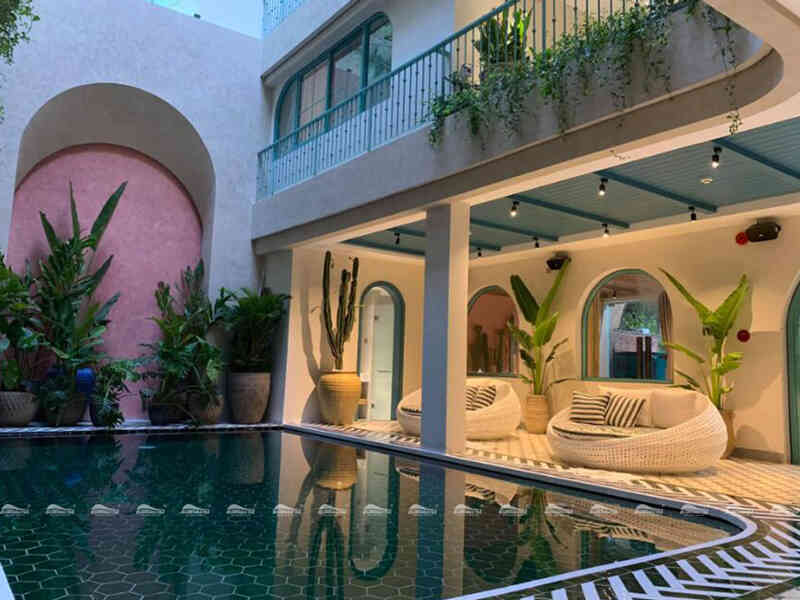 Rattan Element Plays Well
Inspired by nature, an attraction of color, pattern, and form, rattan poolside furniture is trending in poolside leisure design. This beautiful trend touches almost every design inspiration, so whether the pool style is modern, classic, or contemporary, there's a way to incorporate a little texture in the poolside. Not only provide a comfortable space for a swimmer to relax but also create a space for the hotel to receive guests.
For more poolside design inspirations with our blog: 7 Smart Strategies For Choosing Poolside Furniture >>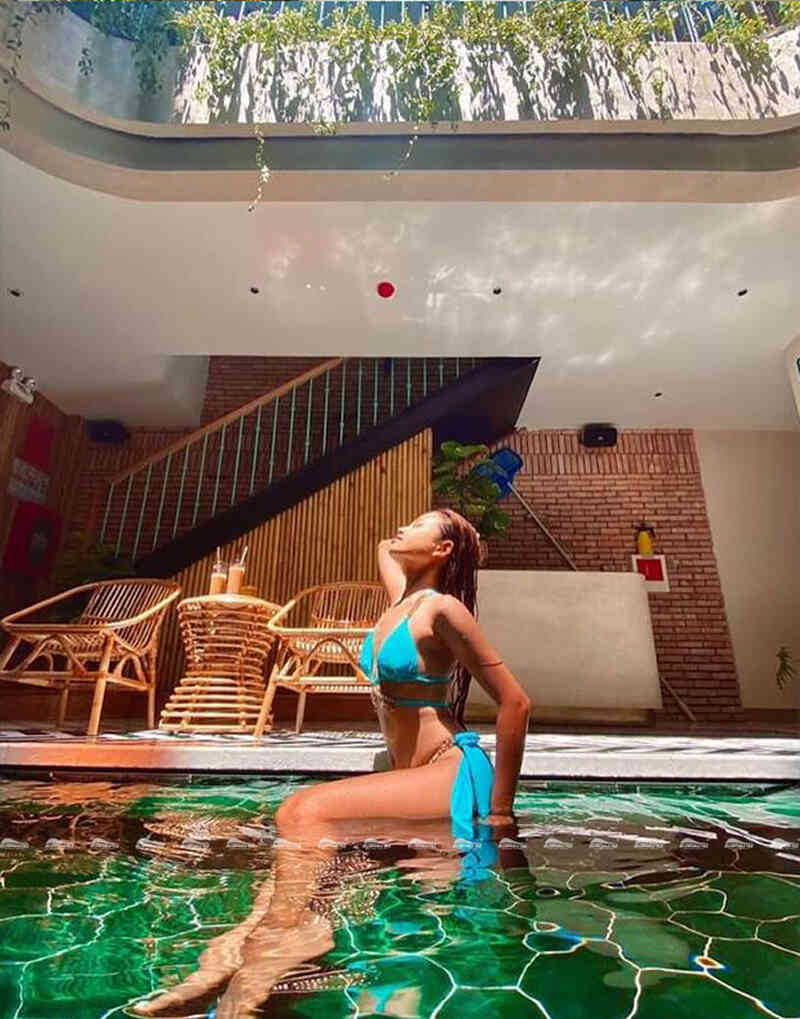 Adding The Ocean Element To Pool
The saltwater swimming pools have been around for a while but are now more popular than ever! How to make the tranquil and natural indoor pools? Maybe salt water is a more wonderful way of keeping your pool clean, which is what convinces the pool owners to make the change. As a matter of fact, to keep your feature appropriately sanitized, you need high levels of chlorine. But saltwater can achieve the same goals without all the chemicals. By the way, you feel like your swimming in the real ocean which is an extra reward! The saltwater has also been proven to included various skin-healing minerals, keeping the body skin healthy and silky smooth. So What a great benefit to using saltwater and what more do you want?
Know more about ocean elements for pools here: Sea World Mosaic Murals Ideas >>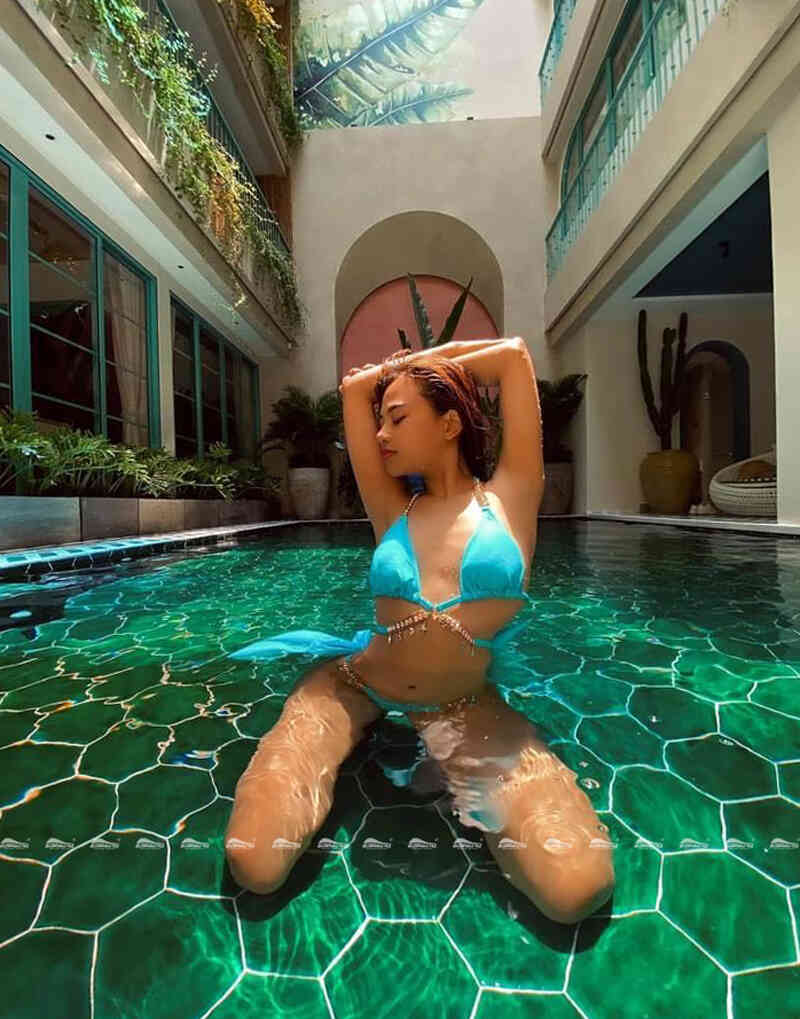 Creative Pool Float Bring Funny
Beautiful and creative shapes are the most welcomed decorations for trendy pool parties because they're easy to get and budget-friendly. Just only blowing them and then place right into the indoor pool, such as around the rattan floating tray or greenery plant and everywhere else you want. Keep them in the colors of your hotel-style so that you can balance the whole pool design feeling.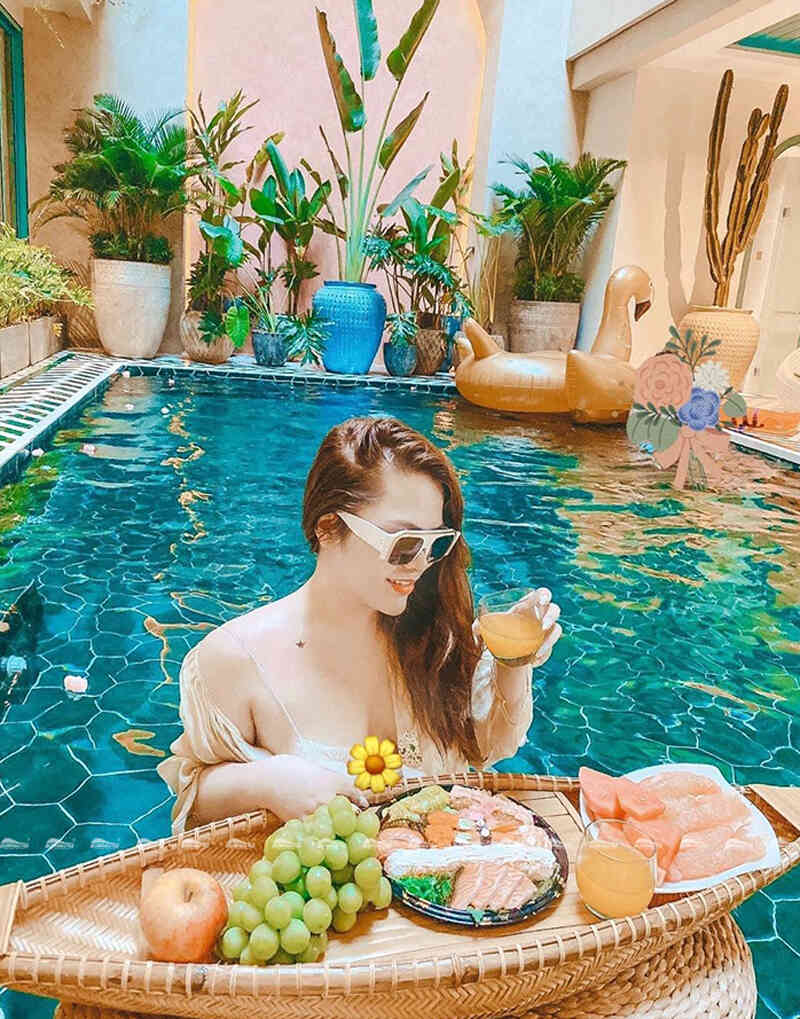 Having A High Tea At Pool
Things are officially heating up thanks to the afternoon sun and if you're cooling off in this indoor pool, chances are you'll never want to dry off. Quite possibly the only things that will you want to get out of the pool water. One thing might be to go to the toilet or other things maybe have a high tea. Why not using the chic and unique design rattan floating tray with the hearty high tea?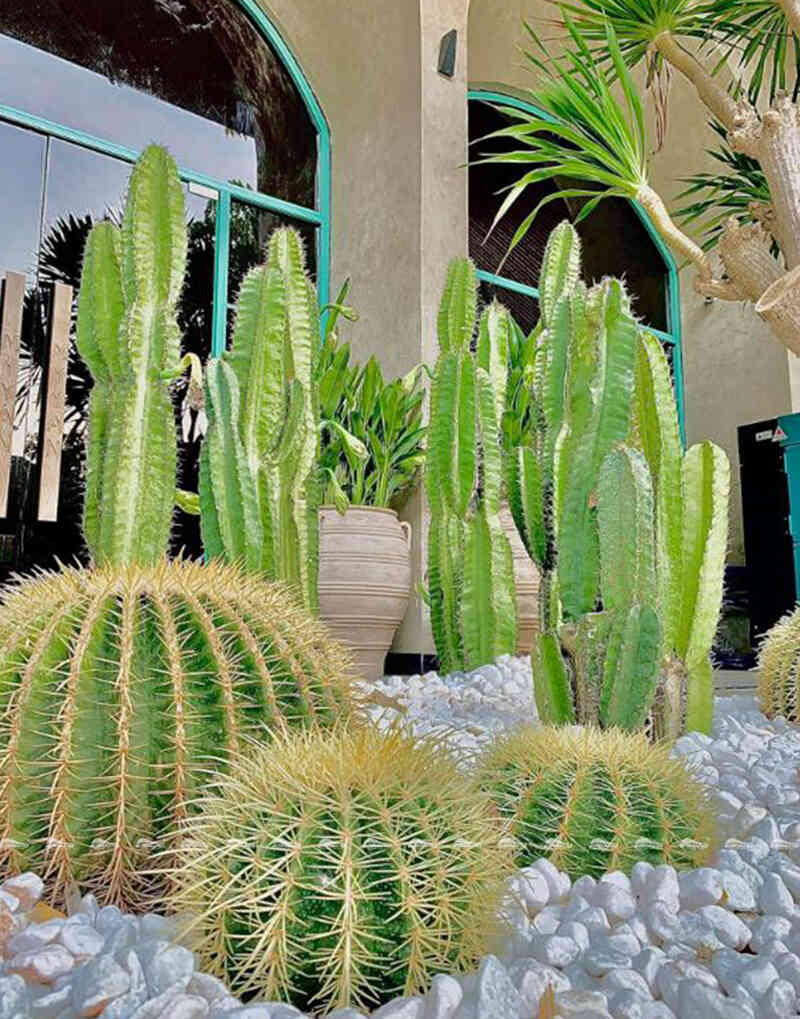 Unique Plants Decor
If the large lush, towering greenery makes you feel right at the common space, go wild with tropical outdoor plants. Decor your pool one side with cactus, ivy tree bark, Scindapsus aureus, monstera deliciosa, Madagascar palm, and other leafy fronds, and you might swear you were in the middle of a jungle getaway!
Get more ideas of pool surrounding plant design, check out our blog: The Trendy Finishes For A Modern Pool Design Project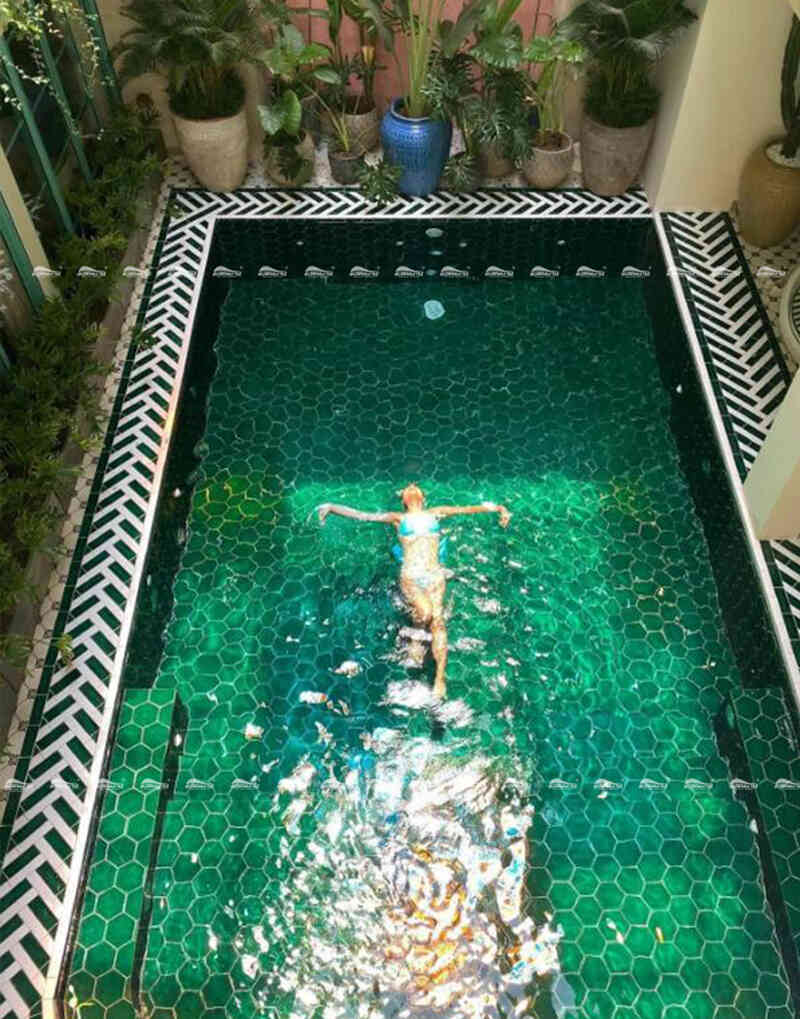 Get Inspired?
Inspired to go dark green? Love this glamour tropical indoor swimming pool? Order these tile samples online now! Need some help? Just only need to contact us immediately and you will get various swimming pool design inspirations!