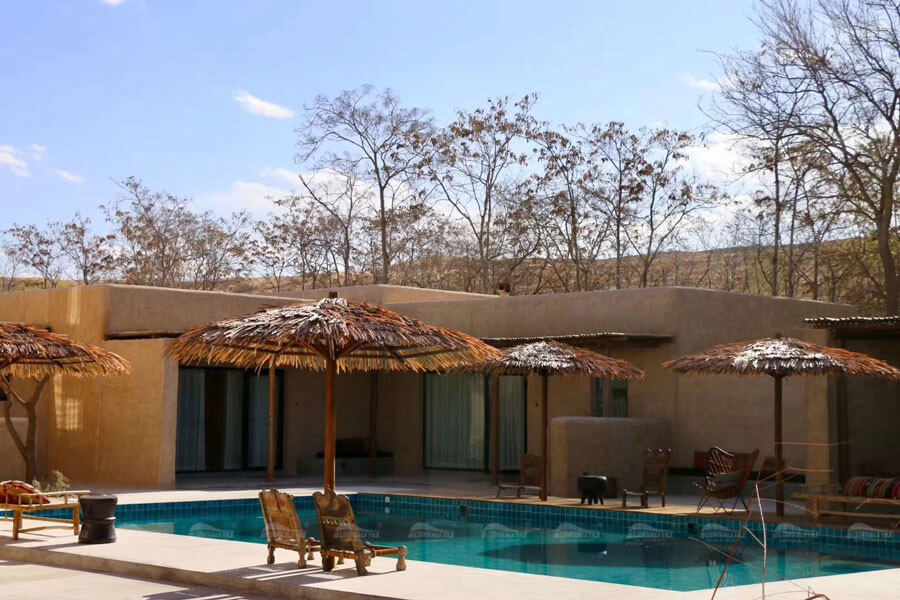 Are you considering adding or rebuilding a personalized swimming pool in natural? Or maybe you're a pool contractor who looking for creative pool design for helping your clients to achieve their dreamy swimming pool building goals? Whatever you envision - A pool that combines well with its surroundings or outdoor entertainment space. Here's a beautiful pool project which has completed by our customer, not only full of local exotic feeling but it makes you feel like you're in nature.
We're glad to share the 4 bright spots of this swimming pool project for you, maybe something will inspire your plan.
Normal Rectangle Shape
A welcome design trend in building a swimming pool is making simplistic geometric shapes. Many customers prefer a traditional frame such as a rectangle or square, which is better to pair with a small area. Normal shape can provide a modern and practical look, meanwhile, it is complementary to a minimalist and natural pool design.
By the way, the simple geometric swimming pool is easier to build from the construction point and their clean lines combine well with various environment choices. Moreover, simple shapes make more space for swimmers. Check out this blog for more latest pool shape designs: 7 Popular Swimming Pool Shape Ideas For 2019 Summer >>>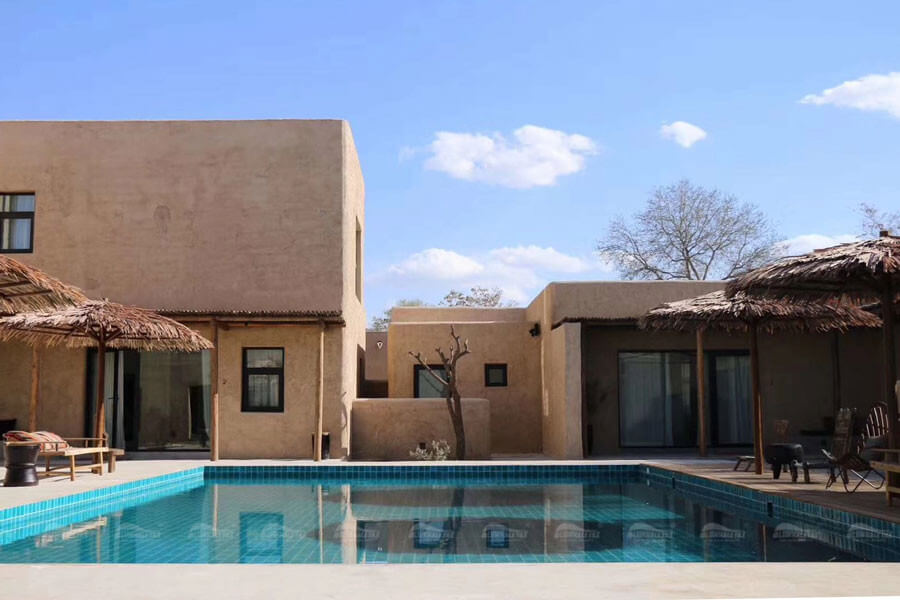 Fresh Green Tiles
Do you notice that our customers choose the fresh tones swimming pool tiles? The stunning riverine blue tones are in stark contrast to the surrounding brown hue, which makes the pool more stand out. Because the customer told us that he wants to use another brisk color in order to make the atmosphere active. Therefore, we particularly advise this special 100mm size porcelain to him. With heavy ice-crackle texture and glazed glossy finish, they can perform well with shimmering waves under the clear blue sky. Make you coming up with ideas that jumping into the pool and have a good swim immediately!
For more pool project tiles here: 8 Classic Pool Tile Blue Mosaics For Indoor Outdoor Pool Project >>>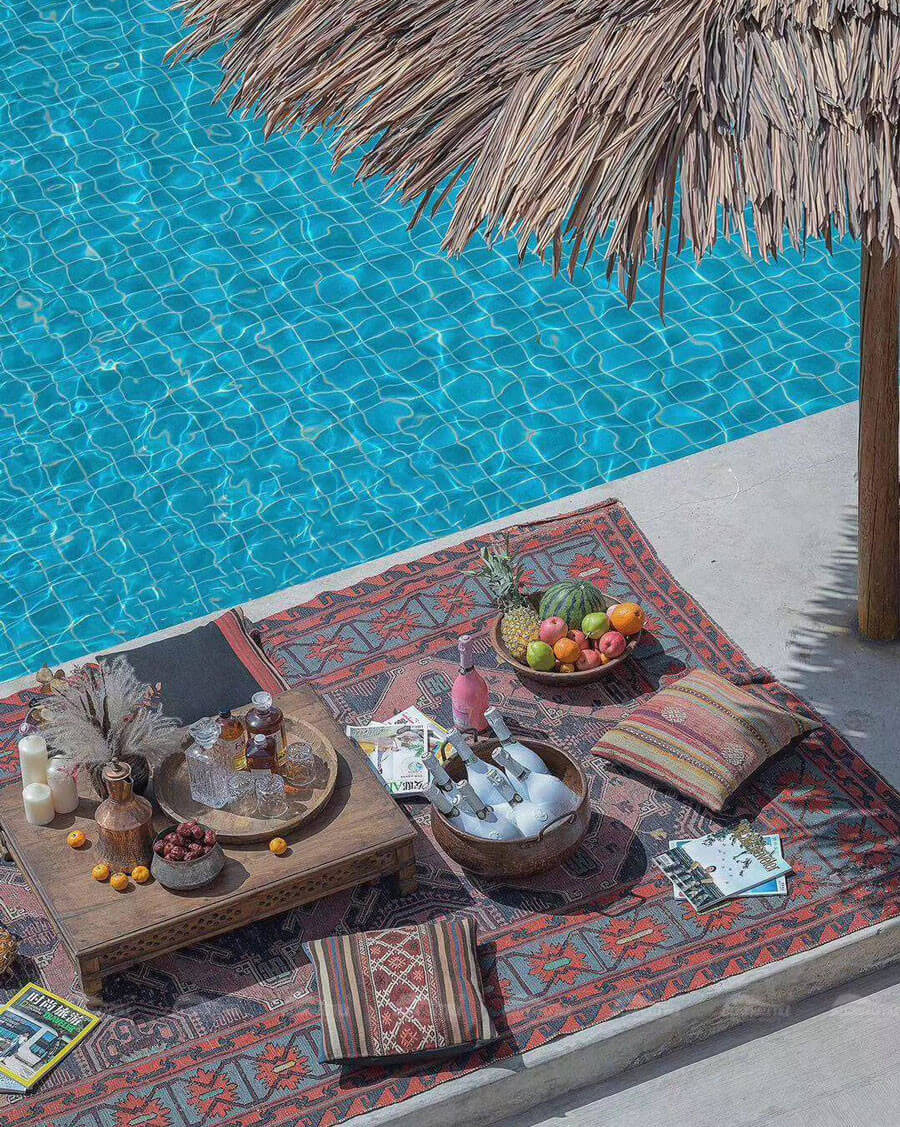 Featured Product: 4" Riverine Blue Heavy Crackle Porcelain Mosaic Tile
Special Design Wood Lounge Chair
As you can see that the resort is surrounded by brown mountains and tall trees, if you put the rattan or plastic lounge chairs, it might seem obtrusive. Hence, it's better to choose the natural wood material and add the unique design elements for the lounge chairs.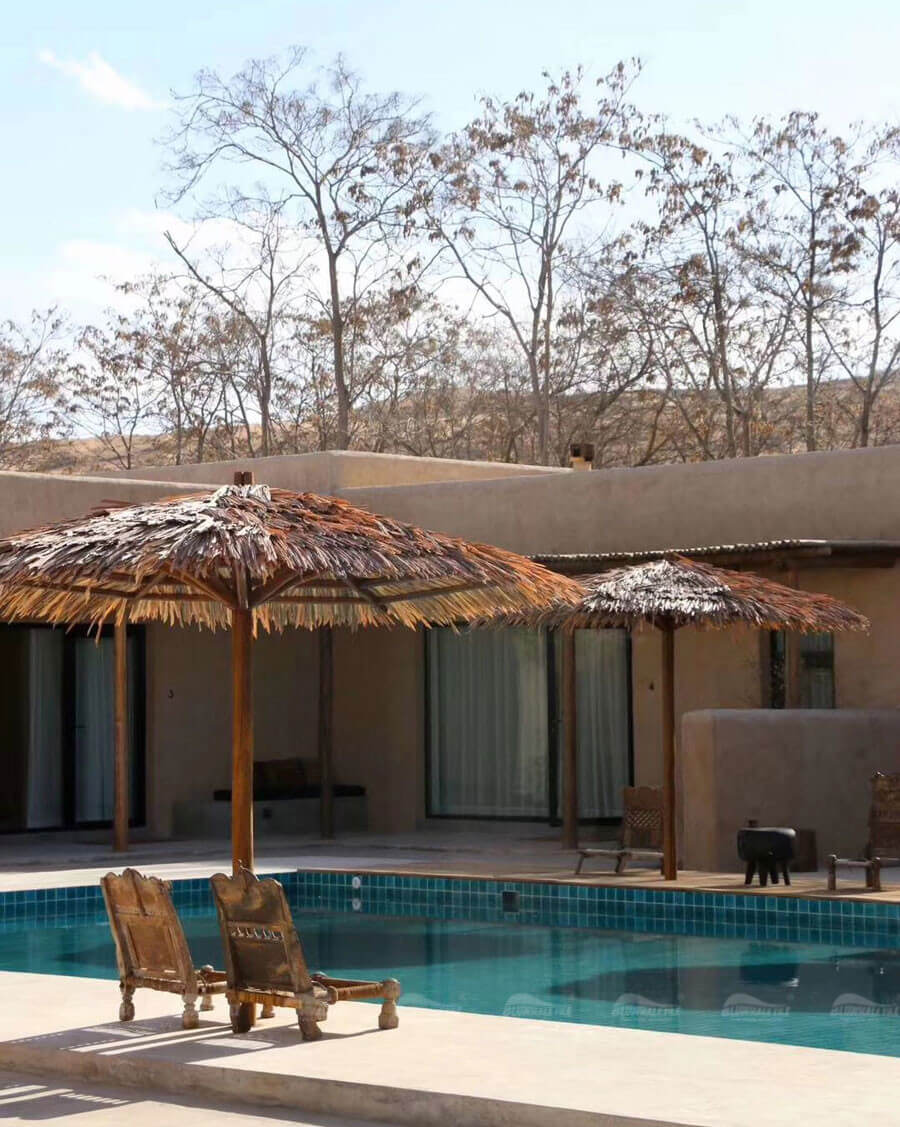 Natural and Exotic Surrounding Decor
Fabric cushions with characteristic Bohemia style pattern, beach umbrella with yellow straw and wood fame, Specially made wooden table and big size exotic carpet. All these decorations make the resort more attractive.
Maybe these swimming pool designs will inspire you: What is the Summer Swimming Pool Design Trends in 2019 >>>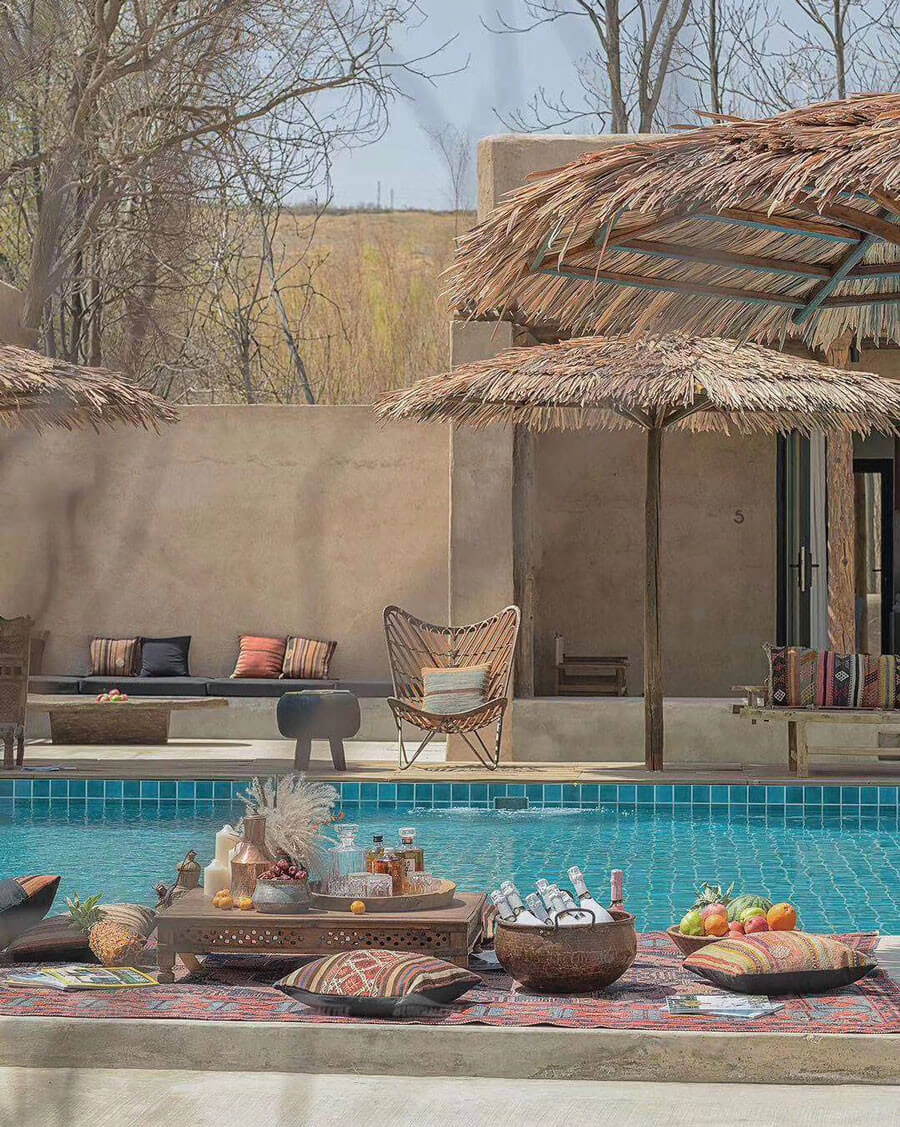 As swimming pool tiles suppliers, Bluwhale Tile is specialized in manufacturing creative pool porcelain tiles and high-quality pool accessories for over 10years. Recently, we've developed more swimming pool fittings such as ladders, pool grating, outdoor furniture sets, etc. Stay tuned for our catalog and blog, we will update the new products at a regular time. Contact us if you have any project ideas!