When you check in this hotel and walk past the swimming pool, you're sure to be instantly wowed by the resort owner's amazing taste. A cozy ambiance is matched with active yellows and charming blues hues. Continue reading to know more about what is the attraction of this pool and how does the mosaic art look.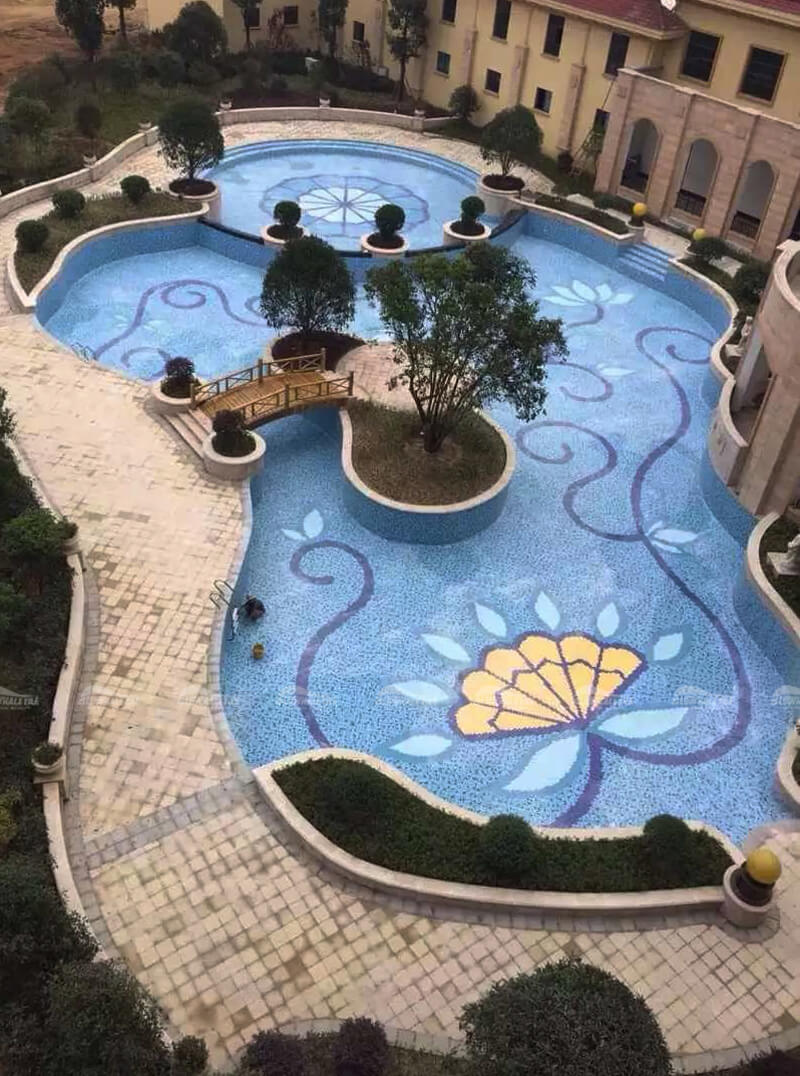 Design
Shape - Suited to Local Conditions
When someone is ready to build a swimming pool to his resort, he might have some decisions to make on its style. When it comes to pool shape designing, one thing that we should determine is the actual swimming pool shape. There are some things that we need to consider, like where is the pool located in the hotel and how many people can swimming in it at the same time. According to the terrain the customer sent by email, we saw the irregular shape of the actual outline, therefore we couldn't adopt rectangle or kidney shape. Suited to the local conditions means using a free form style pool, which features more beautiful curves and maximizes the use of space.
Wanna more shape design? Find more knowledge to check out our blog: 7 Popular Swimming Pool Shape Ideas For 2019 Summer >>>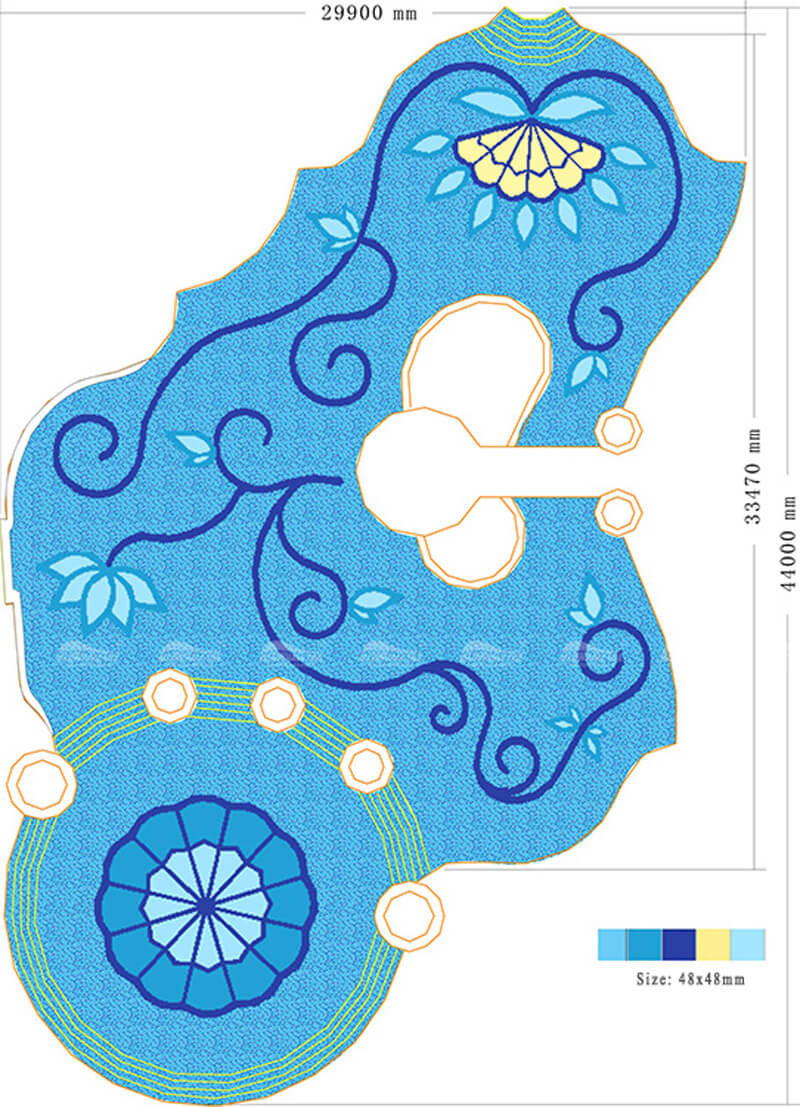 Scallop Mix Flower Vine Pattern
Every element in this pool bottom gives a creative and aesthetic feeling to those who swimming in here. To our surprise, the scallop pattern in the adult area works perfectly with the flower vine pattern, moreover, the active yellow tone pairs well with the dominant hue - blues. Just need little leaves, the lifelike dark blue flower vine spread throughout the adult pool. For the smaller kid's pool, we use a large unique pattern instead of using the vine elements. From afar it looked like a scallop opened its mouth or a blooming blue flower, and what can the swimmers see depends on their imagination.
Love this pattern? For more attractive pattern design of swimming pool bottom with our post: How Landscape Painting Blend Into Pool Bottom >>>
Factory's Working
It took 20 days to finish the pattern by our workers. We not only have professional designers but have workers with high work efficiency. After receiving the swimming pool pattern drawing, they prepared the 48x48mm porcelain mosaic in a short time and finished the work on time.
Wonder how efficient our workers are? This project will tell you: Lilies Flowers Grew At The Pool Bottom >>>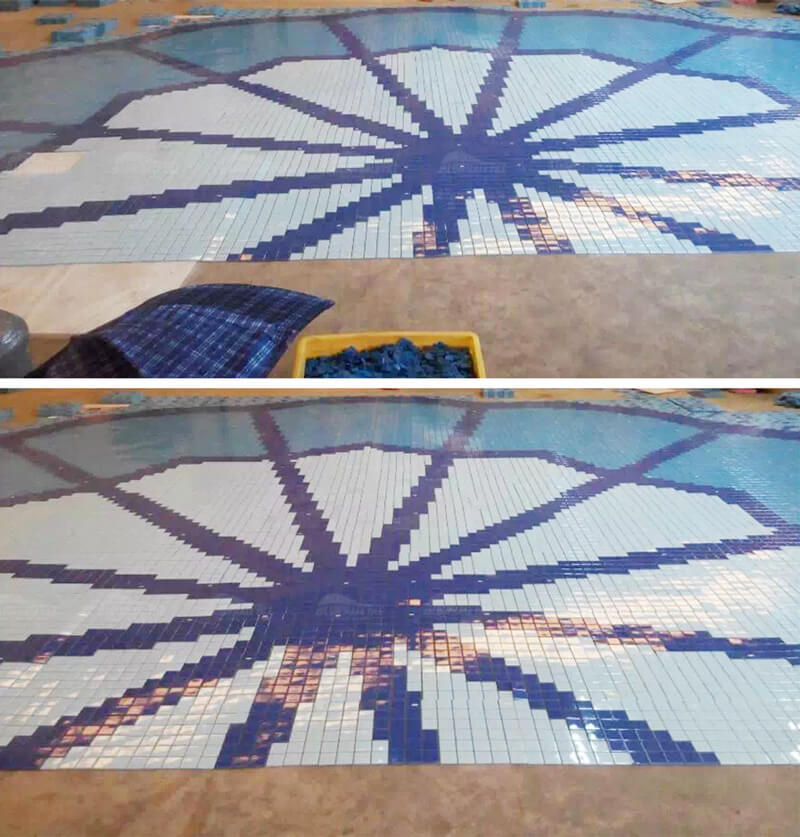 Result
"Few things make me swoon as much as this creative pattern and characteristic pattern! And this perfectly free-form shape and bottom pattern add new life throughout the whole resort-style". We're so glad to hear this email and the photos of the project, and we desire to receive the project completion messages and get some useful ideas for the next project.
Check out our blog for more awesome project: Natural Design and Warm Tones >>>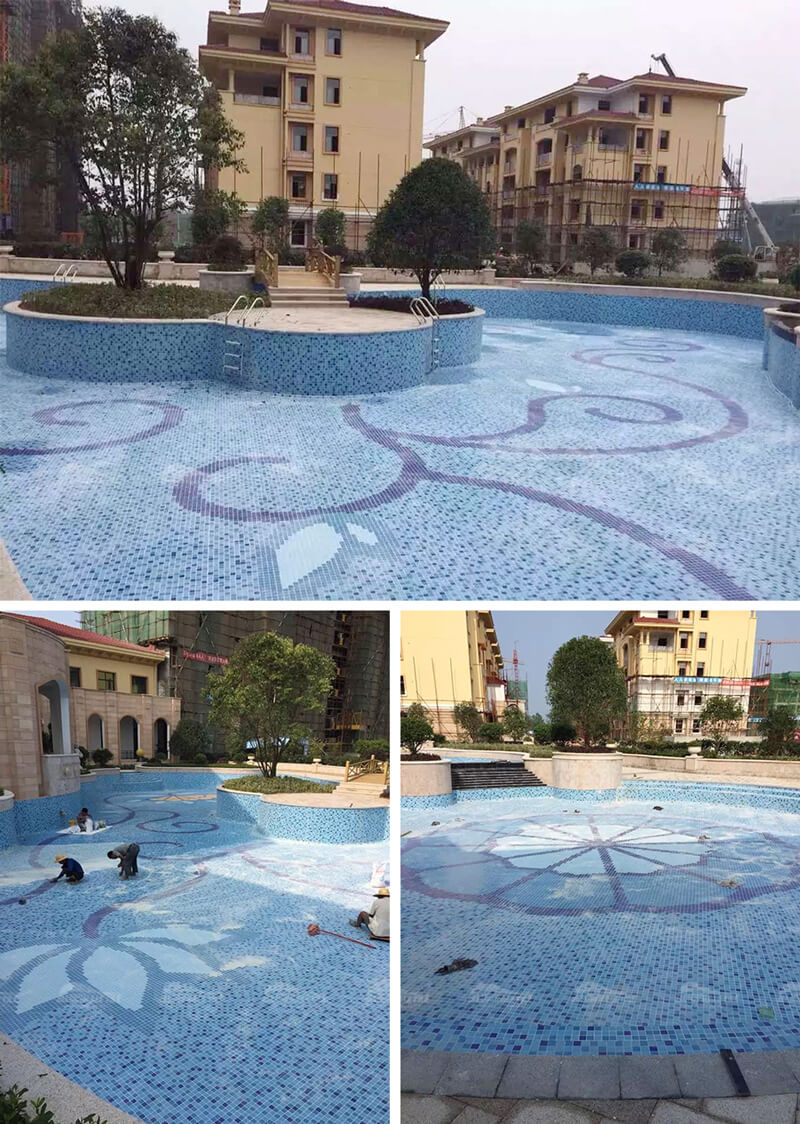 Get Any ideas?
Bluwhale Tile provides a one-stop service for any swimming pool projects worldwide and continues to create more good quality products to fit different style swimming pools. What's more, we provide OEM & custom service and if you have any ideas, you can leave your comments below or contact us for samples!