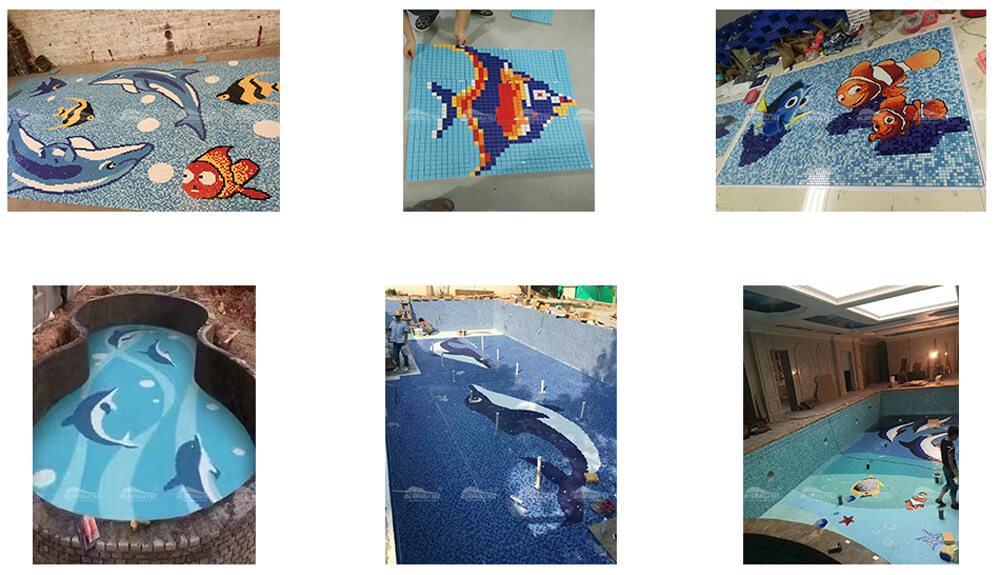 Just like anything else, swimming pool bottom mosaic art come in all different types, patterns, sizes, tones, shapes and are used for various resort projects. Surrounding natural plants, the whole hotel style and availability of materials will all factor into what pattern of the pool mosaic art you will eventually decide to build or install on your space.
Before taking the assess what pattern of swimming pool works for your resort or backyard. Maybe the bellow lovely fish or dolphin pool bottom pattern will be perfect for you, or do you dream of a stunning lifelike sea world in your swimming pool, or swimming with marine organisms? We're glad to share plenty of our customers' pool bottom pattern design scheme with you, keep on reading below and you might find the suitable one:
No Colorful Fishes, No Sea World
Creative bottom pool mosaic art will make your swimming pools to achieve a whole new level of entertainment and appeal. Think of this colorful fishes mosaic arts that will ultimately make you feel as if you're in the real ocean! And did you ever had a brilliant idea that makes your swimming pool an ocean? Bring life to your pool with our varicolored mosaic tiles which will combine into stunning mosaic art. A pool bottom design pattern of the clownfishes, green sea-plant, colorful coral reefs or even white bubbles of varying sizes will add life and characteristic taste to your sea world.
For more swimming pool bottom design projects, check out our blog: How Landscape Painting Blend Into Pool Bottom >>>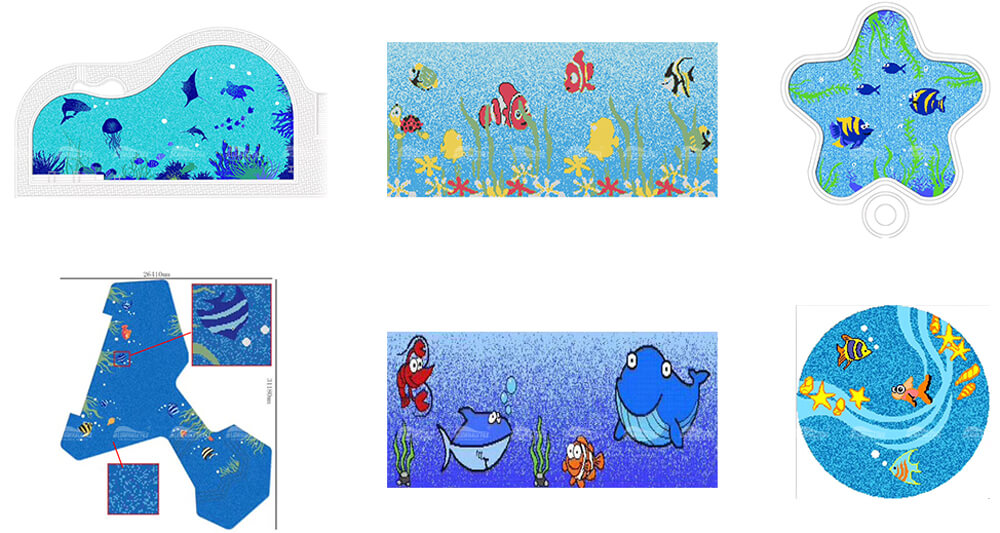 Swimming Dolphin With You
A beautiful swimming pool bottom pattern design can be as calming for your mind as it is refreshing and entertaining for your body. From minimalist dolphin pattern designs to more plentiful styles, the key to beautiful pool mosaic art is to complement the surrounding landscape rather than compete with itself. Therefore, before you decide the dolphin pattern, you should take your surrounding landscape design style into consideration.
Someone like two dolphins combines with blue tone sea waves, while somebody like many dolphins combines with sea plants or other colorful fishes. If you're still confused about how to design the unique dolphin pattern, here are various project schemes that maybe inspire you: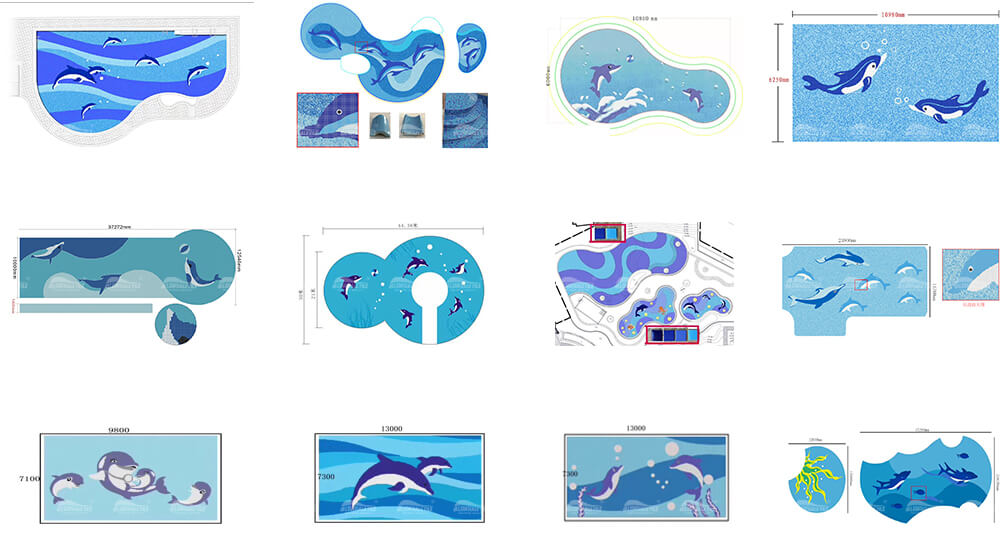 Sea World, Fake Or Real?
Sometimes, without building international norms 20x40 foot swimming pool, you can also get the pleasures of a pool. You only need to pay more attention to the pool bottom pattern. For now backyard design, smaller swimming pools are mushrooming in unexpected places because of the challenge of density and less space to build, hence, the space left for us to build swimming pools will shrink.
While the swimming pool will take fewer mosaic tiles and less time to complete a smaller pool, don't think it will cut the cost of your project in half. Remember that no matter how small your pool is, the bottom pattern is a focal point, which requires attractive sea world patterns like combining lovely dolphins and multi-colored fishes. If you're determined to build a swimming pool, it's the most important thing to consider the porcelains or hot melting glass materials, which will have a great effect on further maintenance. Know more about the differences of those, check out our previous blog: Glass Mosaic vs. Ceramic Mosaic for Your Swimming Pool >>>
On the contrary, if you have left lots of spaces to build a swimming pool it means that you might have an abundant and wonderful sea world. Starfishes, lifelike dolphins, seashells and colorful clown fishes will swim with you. Check out our exquisite mosaic tiles with a full range of great colors, ice-crackle pattern or fambe blossom finish, which will make the mosaic murals more vivid.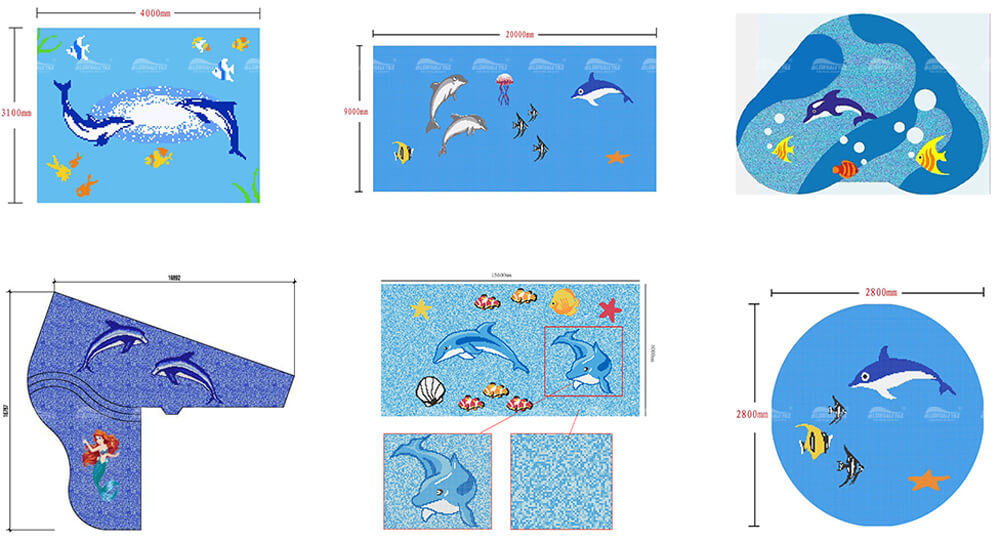 Get Any Ideas?
Have you got any creative sea world mosaic mural ideas for your future swimming pool projects? Bluwhale Tile not only can provide complete swimming pool building materials but also can design attractive and imaginative pool bottom pattern for your space. We're so glad to hear your pool inspirations, why not leave your comments below or contact us immediately!